just a few business items to clean up today and then we'll be all set for
oh hey, friday!
tomorrow.
1 |
speaking of
oh hey, friday!
...grab yourself this new, snazzy, springy button and don't forget to link up tomorrow!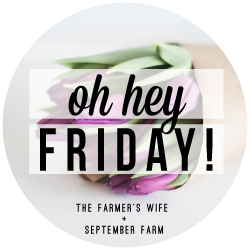 2 |
did you all happen to see my
instagram
a few days back? if you did, then you probably got yourself entered to win $450 in paypal cash. how did we pull this off? well...it's a loop giveaway. you know...where 83 bloggers and shop owners team up in hopes of gaining some new followers. then you spend the next 37 minutes clicking and liking and following. not fun.
the good news about this loop? there are only
NINE
of us bloggers! nine. so it's super fast. super easy. and i think it would be really really great if you entered and then told one of your instagram friends that they should enter too. thanks a mil.
3 |
so...this one isn't THAT cool. i mean...it's fun and gives me the opportunity to work one on one with more of you gals, hopefully. but...i...started an
etsy shop
. it's super brand new (as in i started adding things to it yesterday) but i'm going to continue to design and add to the shop as time allows! have a look at some of the goodies -
all the headers are all customizable by color, wording, and size
if anyone out there is on the hunt to spice up their blog, i'm so happy to help! either check out the
etsy shop
for for some pre-made blog headers
OR
check out my
blog services
page to see what else can be snazzied up for you!
_______________________________________________
all profits made from sold designs do NOT go towards funding this blog. they go straight
into a get karli new boobs savings account. and then, of course, i'll blog about that journey.
it's a win // win.