what a week. what a freak-show of an effing week.
kaye was a monster - which made me a monster.
sawyer was sick // still fighting it.
farming all of a sudden has reared its head so my farmer has had some late nights...and i didn't realize how emotionally unprepared i was for the season to start.
what happened to my weekend ski trips and too much beer?
but hey...we've still got each other...and
oh hey, friday!
get busy.
1 |
grab this here snazzy fall-themed button and link back to
Sept. Farm
.
2 | link up your post at the bottom of this post.
3 |
tell all your friends + have a fantastic friday.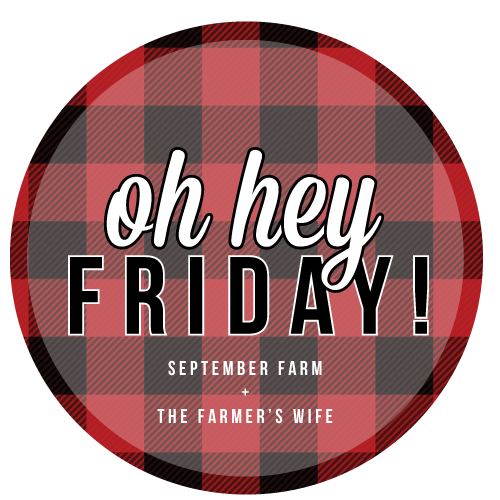 M Y F I V E
1 | my questionnaire
yesterday i wrote up a post that included a questionnaire about blogging and what you all prefer to read about...and what you might want to read about.
out of over 200 responses...there was an overwhelming outcry for MORE FARMER.
i'm not even sure if i should be flattered or jealous...maybe a little of both?
but...ask and you shall receive. and yes, he totally rocks a speedo at each and every opportunity.
oh! and if you want to fill out the questionnaire...please do! it's been absolutely wonderful reading all of your comments and questions! CLICK HERE
2 | weehoo
friends. weehoo doesn't quite begin to explain the awesomeness of this bike train. the sun has been shining + minimal wind out in our neck of the woods so i took my best gals on my first bike ride...towing an additional 80+ pounds (gals + weight of the weehoo). i was super nervous at first going down the giant hill that his our driveway, but after that we cruised. it was so fun and it bought me 30 minutes of blissful silence. i didn't hear either girl whine or cry the entire time. i looked back at kaye at one point and asked how she was doing. her response - doin' good mama! my hands are a little bit cold. other than that...not a peep. #winning
i see daily bike rides in our future. (ps. while going down giant hills is scary...riding up them SUCKS.)
3 | politics
i don't normally chat politics in general...like...ever. i keep my thoughts my bizz and that's that. and that's that! some people are all about it. not my thang. however...what is my thang is the insanity that is surrounding trump. granted...me posting this isn't helping squash the buzz, but this video speaks. give it a look.
4 | spring clothing
i don't know what it is about the weather shifting, but it brings out the very worst in me and my credit card. give me all things floral and bright...and apparently ruffled? like this mustard sweater. i'm nearly certain it won't look good on me...because ruffled shoulders on a 32 year old??? but you better believe i ordered it, because well, you just never know.

and this shirt i ordered in two colors - again...the ruffle. i'm either going to be super jazzed or super sad.
i'm also on the hunt for some new white denim pants. i used to have a GREAT pair that i wore and wore and wore...but apparently breast feeding sucked all the fat and muscle from no other place except my thighs and booty...and they no longer fit. so maybe these will do the trick? or...i could bite the bullet and go for these or these because AG pants just seem to fit my booty the best these days.
when can we start wearing white pants? after memorial day? i don't think so.
5 | so, i've been thinking...i need to sign up for another half marathon. i've completed three in the boise area. wouldn't it be fun and motivating to travel to complete a race? am i crazy? so here's my question -
is there a great half marathon race where you live?
double bonus (for me, not you) - if i travel to where you are you can give me all the very best recommendations on where to stay and eat.
and if none of that ever happens...it's worth mentioning i forked over some cash and bought my yearly running shoes. i purchase every february // march and i can't wait for these to be delivered. i bought last year's version and they were WONDERFUL.
but enough about that...it's friday and you should totally LINK UP!