yay for the weekend! and it really is a weekend for me this time!
my best gals and i are headed up to mccall to see the grandparents...then i'm straight up ditching them. i'll leave the girls up there and head back down the mountain.
what will i be doing with my time?
A N Y T H I N G i want. i'm thrilled.
actually...i owe several clients some design edits so i'll be glued to my computer for a solid chunk of time.
that's okay - i'm totally jazzed to get those edits out the door and get feedback.
but before the weekend begins...let's do this -
1 |
grab this here snazzy spring-themed button and link back to
Sept. Farm
.
2 | link up your post at the bottom of this post.
3 |
tell all your friends + have a fantastic friday.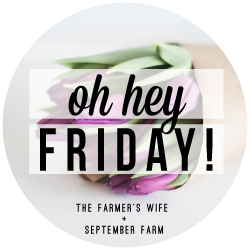 my five
1 | a photo session -
yesterday, just before we headed to town to grab some gardening supplies i had just fed the girls their vitamins and they were being so darn cute and agreeable. i grabbed the camera and started snapping -
friends...i'm not sure what to do with kaye. the camera used to LOOOOOVE her. now?? every picture cracks me up. she's so expressive and her eyes are so telling. she just kills me.
sawyer? sawyer should be a baby model. it's totally fine. you don't have to tell me how completely gorgeous she is. i'm well aware.
2 | tone it up -
good lord. it's time to get serious. i'm not exactly sure why i've been waffling so much with my fitness as of late. actually...i do know and i don't want to admit it. work. i have so much work flowing in that i've had to replace my workout time with work time...which is when sawyer is napping.
luckily - it's the
8 week bikini challenge
...and it starts on monday. i have my grocery list and fitness plan. i'm ready to rock this. expect before and afters. favorite recipes. tips and tricks. all i can hope is that i do as well with it as i did last year. it did absolute wonders for my fitness level last year...so i have high hopes! wish me luck.
3 | landscaping!!
my farmer...he's a DIY-er. DIY is actually an understatement. but with farming in full swing and my constant trips to the nursery...we officially have a mini nursery of our own. it's time to get these plants in the ground!
i made the executive decision that my farmer is far too busy for us to tackle the project together. so...i've hired my dad. i mean...he's owned a landscaping business since the 70's. it just makes sense. i can't wait to get these goodies flanking our porch.
after we get the landscaping in i have every intention of building one of those swinging beds to go on the left and finish our railing. i mean...it's been four years. it's about time we get these projects finished up.
4 | snapchat // face swap
you guys. if you follow me on snapchat (@karli-bell) you know i just love those filters. i can't get enough of them. they kill me. but i think my favorite to date was when i
finally
learned how to do the face swap. it's so funny and so terrifying...all the same.
5 | post recap!
in case you missed my posts this week...
i posted a recipe for
these
delicious treats...that are on the healthier side!
i talked about celebrating mother's day and
how i'm planning
for the brunch we're hosting!
and...baby gap. just take all my money. i talked about
my picks
to get my gals ready for warmer weather!
that's a wrap!
happy weekending!