talk about a mish mash of things going on right now.
as in - my head is in so many places i wrote exactly one post this week...well...and this one. so i guess i wrote two.
but whatever. being super busy is a good thing. but let's just say i'll be happy when the beginning of november hits. it won't be birthday month in our house anymore and i won't have to worry about making unicorn tails.
so while i'm drowning in glittery tulle you should...
1 |
grab this here snazzy fall-themed button and link back to
Sept. Farm
.
2 | link up your post at the bottom of this post.
3 |
tell all your friends + have a fantastic friday.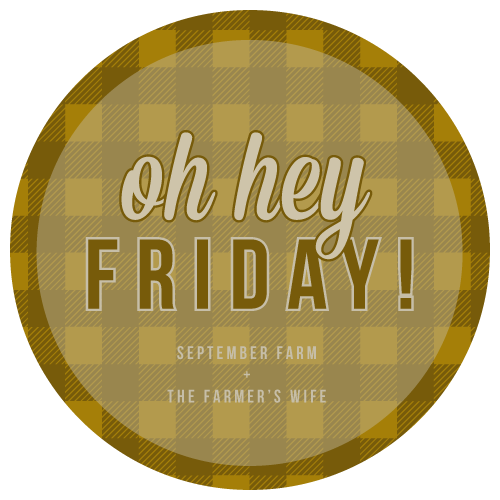 so fun!
wink & ink
had it's very first order last week. it was a "little pumpkin" shower invitation and i hope the mama to be liked it! i did learn a few things -
1. i must finish ordering all my packaging. a white cello sleeve does not a memory make! i've since designed myself a little wink & ink sticker as well as a thank you notecard to go inside of each order.
2. i need to include some business cards with each order! i have my wink & ink cards designed...i just need to push the order button...
so you know...if you're in need of basically anything in the design realm...i'm your gal.
and while we're on the wink & ink train. if you get a wild hair and want to follow a cute little account...you can find me on
instagram
! and if you're interested in helping a small business find her feet - feel free to tag a friend in the
instagram
comments section that might be in need of some party goodies.
2 | HARVEST PARTY
and just like that...amy has thrown yet another successful harvest party. at least this year she's not seven months pregnant. i mean...just look at that little boy. he's so happy to join in on all the festivities this year.
sawyer? she was happy to participate as well. she spent the majority of her time harassing the older children in the bounce house...and then proceeded to get bounced off the step of the bounce house and cut her lip open and bruise her forehead...just a few days before family pictures. yay.
you guys - bounce houses = danger. every time.
3 | FAMILY PICTURES
i think i mentioned this somewhere at some point...but we had family pictures a few days ago and i always hate the part where i try to figure out what everyone will wear. i hate it because i'm soooo bad at it. not even a pinch of fashion in my bones. #strugglecity
well...i'm so happy to report back that i got everyone in clothing on wednesday and off to boise. we were even early! i got a few beers in my farmer (to loosen his smile) and we walked around the cutest part of downtown boise and snapped our pictures.
sawyer screamed at me and wouldn't let me touch her. kaye twirled and smiled and made pouty faces and surprised faces...and she's quickly brought back to life my dreams of being a momager. the camera loves that gal.
our photographer sent us a few sneak peeks...and i'm dying to see the rest!
4 | PUMPKIN PREP
i saw the cutest image on instagram the other day with all the glorious handlettering and i'm just desperate to get better at it.
the pumpkin she designed was large and white and just darling. i currently only have mini mini pumpkins that grew in our little garden...but it did the trick. i can't wait to get my hands on a larger one to really get the full effect. overall...totally not a fail. i wouldn't be ashamed to display it.
5 | CORN HARVEST
friends...it's a corn harvest perk. or at least a i'm married to a farmer who happens to grow corn perk.
the other day i was at the grocery store and i saw bundles of corn for sale. you know...the bundles you can put on your front porch and crete your own little autumn scene. but for $8 a bundle i was like...yeah no.
when we got home i grabbed some garden sheers and headed out to the corn field just below our house. a few moments later i had harvested 16 stalks and i was ready to bundle them and take them back up to our porch. except...
i couldn't see my girls. i could hear them...i just couldn't put eyes on them. they were in the corn. short story shorter - it took me all of five seconds to find them - they were only a few rows in. but there is nothing like the fear of not being able to see your children for a split second. it's just absolutely stomach-turning. gah.
damn corn. the last thing i wanted to do was hunt down my two best gals in 800 acres of corn.
happiest of weekends friends. go do all things fall - apple cider / pumpkin decorating / corn mazes / flannel / link up!...get crazy.