a few orders of bizz before i write another post about how we're getting ready for baby #2. i'm so sorry...just a few more weeks of me obsessing.
(part of me wonders if i got pregnant just for the blog material. subconsciously, of course.)
1 |
did you see i totally changed up the colors of the
oh hey, friday!
button? they swapped from summer to fall. very seasonally appropriate. so if you're crazy like me...snag the new colors!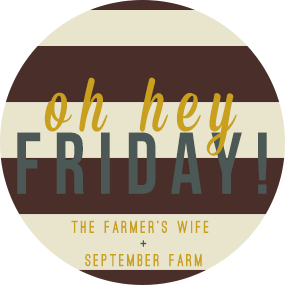 2 | if this is your first oh hey, friday!...welcome! here's what you need to know...
write up a little post about five things. anythings.
head back over here and enter your link at the bottom of this post.

and pretty please don't forget to link back to our blogs and/or add the

oh hey, friday!

button (found just below) by copying the HTML into the HTML section of your post so that others can link up as well! that's it. now get busy.

MY FIVE | getting prepared for farm-gal #2
1 | allow me to draw your attention to the top left corner of this here blog! i'm running a little poll to see what you gals think will happen with baby #2. will she arrive on time? will she be late just like her big sister? (i was 11 days overdue with zero signs of anything happening.) or will she shock the hell out of us and come early? cast your vote!
2 | what's in our hospital bag?
yesterday i wrote a little post about what i plan on bringing to the hospital for round two. i'm an overpacker and a list maker to a fault. but hey, it gives me peace of mind and makes me ever so slightly crazier because i can visually see all the stuff i haven't prepared for. that's the charm in me. regardless...i received a few notes asking if we
were planning on bringing kaye to the hospital with us?
let me assure everyone...we are not. our gal...our kaye...our turtle is a wild wild animal that should only be allowed in a hospital if she is the patient. we are currently accepting all offers from family, friends, and strangers alike to take the turtle for the evening we plan on being out of parental commission. so kaye's little packing list is just for her overnighter at someone's house. don't worry...coming up with a finalized kaye plan is on my master list.
3 | speaking of master list...i made one of those too! as i started crossing goodies off i also continue to add tasks to it. lord help me.
let's face it though...a solid portion of these aren't going to get completed in three weeks. decorate our porch? laughable. prep freezer meals? nada. and the odds of me finding someone to come clean my house out here in the middle of nowhere...well that just pisses me off for obvious reasons. (no cleaning service will drive this far.)
4 |
kaye and i DID manage to get some mommy/daughter shots done on wednesday. cue the "awwwww's." except you can take those "awwww's" right back. kaye was an absolute nightmare. you would have thought i had abducted her because she kicked, screamed, and clawed at me like i was a total stranger. so instead i let her run through the mud and brush, ruining her white leggings while the WONDERFULLY kind-hearted photographer, stephanie of

stephanie mballo photography,

snapped some shots of me and got beat with a stick by my daughter.
no seriously - stephanie was taking pictures, and kaye repeatedly hit her with a stick while she had the camera up to her face.
why? why is my kid the bad kid? maybe she's severely acting out these days because she has an idea of what's about to come.
but back to the pictures - i absolutely cannot WAIT to share more on the blog next week. a huge thank you to stephanie! you seriously are a saint and a talent...and thanks for the hug at the end...i needed that.
5 | what's in a name?
well...actually a lot. so much so i asked for help on the blog awhile ago. i received over 150 comments, e-mails, messages, etc. with AMAZING suggestions...so a HUGE THANK YOU to all who helped us!
however, you'll be very very thrilled to know that farmer and i have yet to pick a name. we have serious issues. we've gone back and forth on a few and then thrown some in from left field. one of those was the name
elle
...which i still love. but then we realized it might be weird to have a daughter named kaye and a daughter named elle. slightly alphabetical, don't you think?
anyway...so that's where we're at. still far away...but maybe slightly closer to being ready. slightly.
now it's your turn. not only with amy and me...but the original gals from five on friday are back!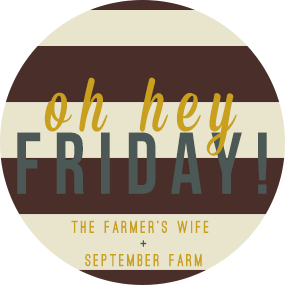 get linked up!