this one says the 11th, but it's tomorrow...i promise.

we have turtle's 2nd birthday party breathing down our necks. it's tomorrow.
and with my due date just over a week away, it'll be nice to cross this one off the list.
kaye's actual birthday isn't until october 30th, so if k2 comes before then, i'll be able to claim (for a hot second) that i was a mom to two under two. that's brag worthy, right?
but before the party-prep details...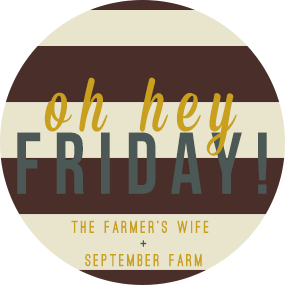 write up a little post about five things. anythings.
head back over here and enter your link at the bottom of this post.

and pretty please don't forget to link back to our blogs and/or add the

oh hey, friday!

button (found just above) by copying the HTML into the HTML section of your post so that others can link up as well! that's it. now get busy.
with that...
MY FIVE
1 | i party prepped the cakepops!
who doesn't love a cakepop? i'll make them again and again and again because they are a win every single time. they were certainly a learning process and for some reason took me quite a few failures until i came up with a successful batch, but now...they're a snap. and they're cute. and i love them.
2 | i party prepped little floral touches
kaye is into this new thing when she sees something she thinks is pretty or she thinks she likes...she'll kiss it, hug it, and nod her head a bunch of times as if giving it her stamp of approval.
i absolutely adore this about her and hope she does it...until it starts to look weird. (i mean...imagine if i hugged and kissed a vase of flowers and nodded vigorously after? that would be strange.)
bug girlfriend can pull it off.
3 | i party prepped water bottle labels
i don't know what it is about water bottle labels but i just love the custom look they give a party, so i do them. it's silly. but they are so easy to pull off, so why not?
i also have every intention of moving this little table outside because it matches the party colors perfectly. yay for vintage furniture.
4 | i party prepped stripy straws and cupcake toppers
and one night while our internet was down i snazzied up some straw flags and cupcake toppers. i had been putting it off and putting it off, but when the internet failed us and i couldn't do (??????) whatever it is i do after kaye goes to bed, i had no choice but to get my craft on. i'm not mad about how they turned out.
5 | ad discount...again
in honor of my best gal's 2nd birthday, i'm offering a 2% discount on all
ad spaces
.
kidding...it'll actually be a
20% DISCOUNT
off of all
ad spaces
! i have an individual feature opening up as soon as october 25th! so if you want some September FARM love...show your love and get your ad space on. enter code
TURTLE20
for the discount.
have a wonderful friday and a great weekend! have a drink for me saturday night. i'm going to need it.
___________________________________________
now it's time to get linked up with your favorite friday linkups (us!) and of course, the original five on friday gals...get busy.