we're all very aware the christmas is single digits away. eeeeeee! i can't wait to watch kaye's jaw hit the floor when she sees the christmas tree. right now we have zero presents underneath, but on christmas morning...boom.
but back to business - let's all take a little break from this here
oh hey, friday!
and make this our last one until january...january 8th, to be exact. so we'll see you back here in 2016!
also...if you did make it here today...
1 |
grab this here snazzy fall-themed button and link back to
Sept. Farm
.
2 | link up your post at the bottom of this post.
3 |
tell all your friends + have a fantastic friday.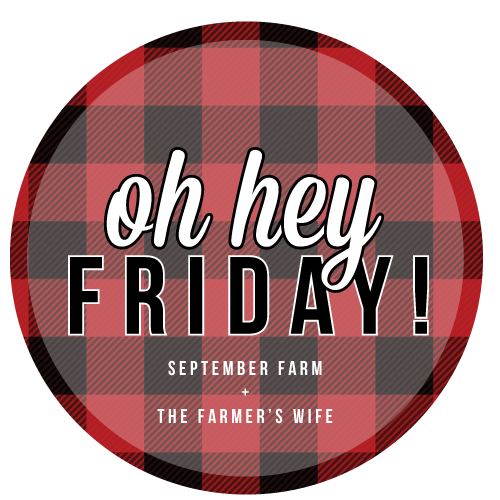 M Y F I V E
1 | ad sale!
i'm still plugging along with my little ad sale for my group giveaway! i'm planning a big one for january to get us all started off on the right foot - you know...resolutions and all. maybe you want to grow your blog? maybe you want to get fit? maybe you want to do both (i raised both my hands)...then let's do it! i'd love for you to use the code FIT2016 for 50% off the group giveaway ad space! (or if you're thinking another ad space is more your style, feel free to do that! i'd never be opposed!)
2 | glorious glorious winter
i just need to give a shout out to freezing cold weather. i'm absolutely in love with it. it's because i've had SO MUCH TIME with my farmer lately. we went on a date a few weeks ago and stayed overnight in boise. we went to a christmas party and stayed overnight in boise...again. then we went to mccall to catch all the snow they've been getting and had an absolutely wonderful, out of this world time skiing the powder...which i had never really done before...it feels like you're bouncing on a cloud...not to mention he's been taking the girls a ton which allowed me to finish all the christmas cards i got to design this year. this cold weather...i love it.
speaking of time and cold weather - all this cold weather gives me lots of inside time. time to design new goodies for some of you great blogging gals! (i'm sorry sarah! i swear i'll finish your business cards as soon as i see my computer again!)
what i'm saying is - with all this time and 2016 approaching, if you need business cards or a new logo or you're looking to freshen up some graphics on your blog or maybe you need some invitations or or or...really just anything, please let me know as i'd be beyond thrilled to help!
ps. i'm planning a big 2016 launch of karli bell branding & design - i can't wait! i'll have a little website and everything. hip hip!
so yeah...we've had so much time together AND he's been giving me so much time off from watching the girls...it's been fun.
3 | day date with my best gal
and by best gal...i mean my oldest gal. i took kaye to her first movie at the theatre yesterday - the good dinosaur. she basically had the best day of her life. she was eating her popcorn (healthy popcorn i made at home and stashed in my bag...shhhhh...), drinking her hot cocoa, watching a movie. everything was going wonderfully until she spilled the luke warm cocoa down the front of her halfway through the movie. did i mention the theatre was empty? so we took off her shirt, put her coat back on and finished the show...until the last five minutes when she had to go to the bathroom. yep...we missed the culmination, but i have a feeling everything worked out. kaye didn't seem to notice. she probably knew what was going to happen - she's smart like that.
after the movie we just happen to run into santa and snagged a picture. then, we had to go to the mall to get her a new shirt - damn. THEN...it was dinner time so i took my gal to pizza. i know - worst day ever.
4 | advice
what's everyone doing for the new year? i want to make it special for my gals - 3 and 1 - but i'm not really familiar with any traditions. maybe we'll do a fake toast at 8 pm...and let them stay up an hour late? super fun? anyway, any and all suggestions more than welcome!
5 | happy holidays!
a huge happy holidays and a very merry christmas to everyone! i hope we all get to spend lots of times with loved ones and those nearest and dearest. i hope the food is delicious and the beverage is plentiful and that you laugh until your face hurts. i hope your homes are cozy and warm and that we can all cherish this absolutely magical time of year!
ps. don't forget - mistletoe time...lots of it.
link up!