so...i finished
bloodline
(season 1) on netflix the other day and i was like...great. now what am i going to watch on the treadmill?
netflix suggested i start watching
chealsea does
, a chelsea handler docu-series. oh lord oh lord am i so happy i did. a few years back i read one of her books and looooved it. i was hoping seeing her in a series wouldn't disappoint...and it didn't.
this inspired me. i bumped into a few new favorites this week and thought it would make a great list of five. but first...
1 |
grab this here snazzy fall-themed button and link back to
Sept. Farm
.
2 | link up your post at the bottom of this post.
3 |
tell all your friends + have a fantastic friday.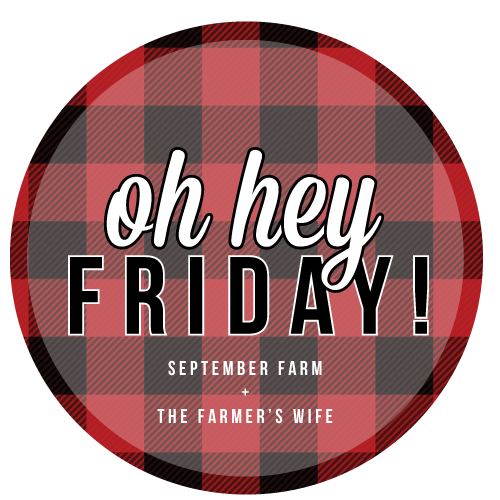 M Y F I V E - a favorites list
1 | chelsea does...
so as i was saying...i started watching chealsea does... and it is not disappointing. i giggle on the treadmill because some of the stuff that comes out of her mouth...i swear we think a lot of the same thoughts...her thoughts just happen to come out of her mouth 99.9% of the time.
what i'm saying is...if you haven't started watching, add it to your list.
2 | schwan's man...
schwan's man has done it for me again. i think it goes without saying (but i'll say it)...my little tone it up challenge has been fleeting. i can usually do three super strong days in a row...but then the man in the yellow truck comes-a-knocking and i'm like a moth to the flame. thank you for the four half gallons of ice cream schwan's man. you're totally on my favorites list.
3 | these two
6 pm hits. dinner is cleaned up. jammies are on. i'm totally ready to kick my feet up...and apparently, so are my two best gals. so even though their fighting has increased now that our bitty boo boo la too is getting quite the personality...they've become increasingly sweet to one another.
the other day we were playing downstairs and i snuck away (as i often try to so they can practice playing together). a few minutes later i could hear them both giggling. then some more giggling. and more giggling. i finally poked my head downstairs to see what was going on - kaye was pushing sawyer around in the play stroller and they were both having the very best time...until the thing collapsed from bitty's apparent crushing weight.
4 | banana republic - spring '16
yesssss. as much as i love winter clothing and being bundles...i really do love when the warmer weather clothing can be pulled out again. it's totally motivational to get my booty moving. and banana's new line didn't disappoint. i'm eyeballing a few goodies...and have a few stashed in my cart as well. now i'm just waiting for the perfect sale to snag the best deal.
5 | a favorite blogger...
did you guys see my guest poster yesterday? it's sarah from over at mohr to love! not only is she a super great blogger, but she's also offering up a $20 starbucks gift card! just get yourself entered below!
$ 2 0 S T A R B U C K S G I F T C A R D !
_____________________________________________________________
and hey! one last note from me. if you're interested in having your own feature on
September Farm
i'd just love to have you. as in
love love love
. just
click here
to see your ad options!
B O N U S !
i'm offering 50% off my
feature post spot
!! just use the code
LOVE50
and you'll be set! (only open to five people!)
now...link up!