ummm...does anybody else feel like easter just snuck right up on us?
does it feel like it's extremely early this year? i mean...last year it was on april 5th. so yes, it is hitting us early this year.
so, since i totally bombed st. patrick's day i figured the girls and i would get our easter on this week.
but before i share all that...you know what's coming -
1 |
grab this here snazzy spring-themed button and link back to
Sept. Farm
.
2 | link up your post at the bottom of this post.
3 |
tell all your friends + have a fantastic friday.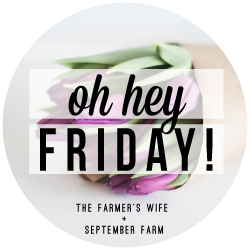 uhhh...hold the phones. pump the brakes. midway through this post, as i was installing photos from my camera...lights out. my macbook pro completely shut down. i thought, "okay. no big deal. i'll just start it back up."
except it didn't just start back up. guys...i think it might be dead dead. either that, or i've lost everything. like...all of my work. all my photos from most of 2015 to present. i'm really trying not to lose my shit over this...but. yeah.
so, i'm here, pecking away on my dinosaur macbook. thank god i didn't kick this old betty to the curb.
while i'm playing computer doctor, you go ahead and link up. then i'll go cry. then you go have yourself a great friday. then i'll take kaye to gymnastics and realize it's okay. i'll also realize technology sucks. and i hope you have a great day too.
link is on...