friends. i have a confession. my two best gals have been with the grandparents for six whole days.
i'm finally going to get my hands on them in just a few short hours when we meet up for the child hand-off.
i am beside myself.
will they remember who i am?
will they still love me?
will they retaliate against me and decide they'd rather live with nana and grandpa?
yes. yes. yes.
kaye already tells me she's going to go live with nana when she's mad at me. she can be a real treasure.
and you know what else is a treasure? linking up. let's do this thang...
1 |
grab this here snazzy spring-themed button and link back to
Sept. Farm
.
2 | link up your post at the bottom of this post.
3 |
tell all your friends + have a fantastic friday.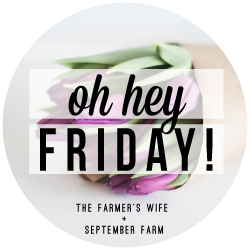 my five
1 | i ordered this shirt and this shirt. i've never had an off-the-shoulder top before so i'm pretty excited to check it out. i have broad shoulders so there's a pretty good chance it might be too tight.
but can we talk about this one? i might need to go back and order it. it's just my style. it looks so comfortable and their modal is nice for hot days.
ooo...and i love the way this color pops with white pants.
2 | landscaping!
friends - phase 3729 of establishing our home on a hill has started. my dad came to the farm and helped us landscape our flowerbeds. and by helped...i mean he's the creative genius with all the tools and i was the person kind of walking around trying to look busy. but in the end...it's really shaping up!
things we still need to do - install flower bed border, install ground cover (so it's not just dirt), plant a tree in front of the bathroom window, finish porch railing, make a bed swing...and...oh yeah. build a garage. that's right...we don't have a garage. we desperately need a garage. farmer - can we get a garage? can't i just pick one up at home depot or something?
3 | my gals on vay-cay
my two best gals have been on vacation with their grandparents which left me quite a big of extra time to...do whatever i wanted. did someone say glorious? it was. but probably the best part was a little extra quality time with my farmer. he's been so busy lately logging a trillion hours in his tractors...i decided i should probably spend a little time in the fields as well. i even brought him lunch once. that was a big deal.
4 | bikini challenge with tone it up!
we're on day five of the bikini challenge and i didn't realize how out of shape i was. i've certainly been neglecting my treadmill the past few months with work picking up...but it's time to get real real serious. unfortunately - getting real real serious also means whipping up some new recipes.
let's talk about the pancakes they have us making - they are made from protein powder and bananas. friends...i don't even really like bananas and these were SO good.
collard greens - it's like the leafiest green! i love them...and they are perfection for making a sandwich in. they hold so much and don't fall apart. if you're trying to steer clear of carbs or gluten...snag some collard greens. yum.
5 | class reunion
and quite possibly the biggest new...my 15 year high school class reunion is right around the corner. as in...this summer. somehow i started to feel quite guilty that we didn't have a 10 year (i think i was supposed to plan it...?) so i went for it with the 15. here are my questions -
1. have you attended a high school reunion?
2. was it worth it?
3. what was the most memorable part?
basically...i don't want this thing to bomb. i have the venue selected for a friday night mixer. we have a family bbq planned for the following day. but what else? should there be something more? help a gal out.
okay! while i stress-sweat over ruining our reunion...you link up!