hey hey party people. and by party people i mean it's not even 8:30 pm and i want to be in bed.
a glorious king-sized bed that i'll have all to myself. i kicked my farmer out. he's gone-zo.
and by gone-zo i mean he ditched out on me so he could go play with his friends in colorado - bachelor party style. skiing - drinking - skiing - drinking - drinking...oh. and probably sleeping in. #hateinmyheart
no no. in all actuality he's had a hell of a week and he totally deserves this getaway. i hope he has the very very very best time celebrating one of his final friends to get married.
so, while he's snoozing away in the morning...i hope all y'all are linking up!
ps. be on the lookout this next week for a new spring-themed button. it's time.
1 |
grab this here snazzy fall-themed button and link back to
Sept. Farm
.
2 | link up your post at the bottom of this post.
3 |
tell all your friends + have a fantastic friday.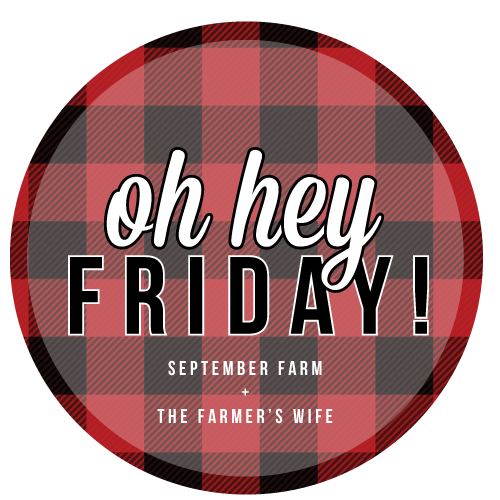 M Y F I V E - wish list
1 | new link-up
did you see? i got a wild hair and decided it was time to start another link-up. they are just so fun and easy and a great way to bring all us bloggers together or for non bloggers to find new fun reads. yay!
my thought was...since i'm an obsessive list maker - how about a 10 on tuesday? all you have to do is make a list of 10. 10 anythings. no explanations needed - or if you want to explain them, you totally can. i can do it right now half asleep.
10 reasons i'm scared of donald trump
his hair
his spray tan
his voice
his cockiness
his ridiculousness
his general dislike for the human race
i could go on...i'll stop.
so yes. link up! tuesday. be there or be square!
2 | new car
not my car...but maybe this one? (source)
the farmer and i have been considering a new car as of late. i currently roll around in an audi q7...but i've really beat the hell out of it out here on the farm. like...wow. i mean...it didn't help that i backed over some unnoticed farm equipment several months ago and it bent my bumper all out of whack. it also didn't help when my farmer slid it into a snow bank two months ago and it bent the bumper even more. we have yet to get that fixed. oh...and then there's that super awesome crack across the entire windshield. i'm basically driving around the trashiest audi q7 ever.
so...i need a new car. since we have to drive so far to get anywhere we're trying to find the perfect car that has both size and incredible gas mileage. i used to rock an audi a4 wagon. that thing was so fast and so cute and had so much room in the back...i kinda want that back. but maybe we should go the hybrid route? i don't know. what do you all drive?
3 | snow
a few weeks ago my in-laws packed up their motorhome and headed down to arizona. must be nice to be retired farmers! anyway...as soon as they left, the farmer and i lost our ski babysitters. this is not good. we need them back! don and // or kristi - if you're reading this, come home. and if you do come home...bring some snow! then you know the drill - you have fun with our two best gals, we'll go skiing. yay? glad we all agree.
4 | a nanny
is this crazy? i think i could really thrive with a nanny. granted...i would be basically the worst nanny-boss ever, but she would be handsomely rewarded for her hard work.
actually, now that i think of it, i just want a live-in housekeeper. she would just have to do things exactly how i would do them, except better. so easy, right? hand polish the floors. hand pumas the toilets. dust daily. make all the beds daily. clean up all the meals. grocery shop. oh...and babysit some of the time.
5 | my blog
i wish my blog would blow up. like...just all of a sudden it became a must read on everyone's list and big brands started pounding down my proverbial blog doors. brands wanted to send me free things or resorts wanted me to go on vacations...all i'd have to do is take pictures and write about it. whhhhhhyyyyyyyyy isn't this happening for me? i need to figure out how to create the frenzy. the buzz. or maybe i'll just wish it and it'll come true. i mean...i've written it down now, so it's bound to happen. riiiight? right.
6 | i need this 6th spot - not a wish
last thing! so...i had two gals decide they couldn't do the instagram loop giveaway, so now i'm on the hunt for TWO MORE BLOGS OR SHOPS who would like to be apart of the loop and see a boost in their numbers! the buy in is $50 and it all goes towards the cash giveaway of $500. this loop is limited to 10 people so it's not going to be one of those crazy loops where you have to follow 75 people and like all their pictures. so...e-mail me here if you're interested and i'll send you the details! i need to know ASAP and there are only two spots open!
okay...linkup time!