i've had it a little too easy lately.
with business picking up on the design front, i've been taking my gals to a gal two times a week. every tuesday and thursday for the past couple of weeks.
(it's been amazing.)
even though the day flies by...i think it flies by because i'm able to get SO MUCH COMPLETED.
the other bonus - i no longer feel like i have to work when the girls are with me mon // wed // fri // sat // sun.
before i was constantly scrambling. just trying to eek out work 10 minutes here five minutes there. it wasn't great and it was pretty damn stressful. whenever i felt like i was getting somewhere, sawyer would pull kaye's hair or kaye would lock sawyer in her bedroom.
(this is a new thing - kaye locking sawyer in her bedroom.)
i'll run downstairs to see what's going on, open kaye's bedroom door, and sawyer rushes out. then kaye will scream, "bitty doesn't want to PLAY WITH ME!!!!"
and i'm like...girl - nobody wants to play with crazy.
anyway - what i'm was saying is...i'm getting so much done. it's wonderful. i feel less stressed. aaaaand...as of now, part-time work is glorious.
i really really hope business keeps flowing in as steadily as it has...i'm feeling like one lucky lady.
and you should feel lucky too. it's time to get your link up on -
1 |
grab this here snazzy summer-themed button and link back to
Sept. Farm
.
2 | link up your post at the bottom of this post.
3 |
tell all your friends + have a fantastic friday.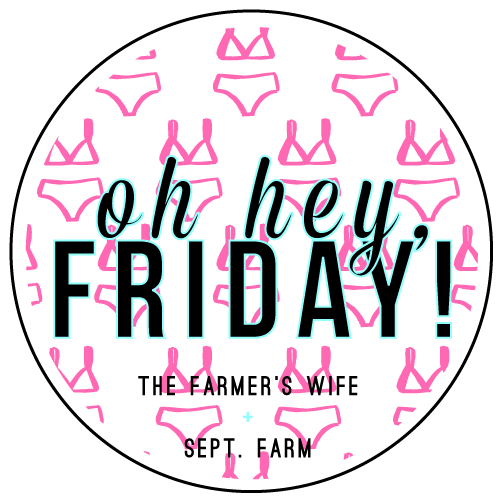 my five
1. local bloggers - i feel like the biggest moron. i was popping around instagram trying to figure out all the tricks and somehow i feel into the rabbit hole. next thing i know...i've discovered that with my 2k followers...i'm actually NOT the biggest blogger in boise. (surprise surprise.)
duh. i'm kidding. but what i did discover is that apparently boise is thriving in the blogging community...i just have yet to figure out where their secret weekly meetings are. (i'm positive i just haven't received my invite in the mail...yet. it's probably lost.)
you guys may think this is weird, but boise is SO small. everyone knows everyone...which is why i'm so shocked i don't know these bloggers.
so let me tell you this - pop onto instagram and throw in the hashtag of your city (ex - #boiseblogger)...you'll be so surprised! or maybe you won't...but i was.
2 | printable - oh...you know. since i have so much time these days i thought it might be fun to whip up a little 4th of july printable. (maybe this is why i'm not in the hip blogger scene? i like printables.) anyway...get your festive printable here! it's just a little 8x10. it can be printed on regular 8.5 x 11 printer paper...then just trim it down.
3 | best news ever - that sweet sweet man of my sisters booked a surprise trip for them to come to the farm for a visit. i just about died when they called to tell me because they'll be here in less than two weeks! i thought i wasn't going to see them until mid august. but now...twice! twice back to back. i'm so super jazzed and plan on trapping them on the farm and not letting anyone else see them but us. that's the beauty of living on a big farm.
4 | a call for help - heeeeeey - i'm looking for your very best summer products. what do your kids LOVE!? we have a water table. that rocks. i bought a slip 'n slide - that was a bust. (kaye doesn't weigh enough to really propel herself. short of digging my own pool in our backyard...i want something for the gals that they are going to want to do all day errr day. so yeah - what are your favorite summer toys?
5 | but seriously...do something nice for yourself today.
happy friday! link up right meow!