hey hey party people! who's ready for the weekend?
(raises both hands.)
and by weekend i mean...a weekend of rest. we don't have anything planned this weekend. no friends and family in town. no trips to pack for. just some relaxation and maybe a house project or two.
i take that back. we have a birthday party on saturday...but that's besides the point. the point is...we have a heck of a lot less going on this weekend than we have all summer and i'm just thrilled about it.
but before we get our relax on, let's get our link up on...
1 |
grab this here snazzy summer-themed button and link back to
Sept. Farm
.
2 | link up your post at the bottom of this post.
3 |
tell all your friends + have a fantastic friday.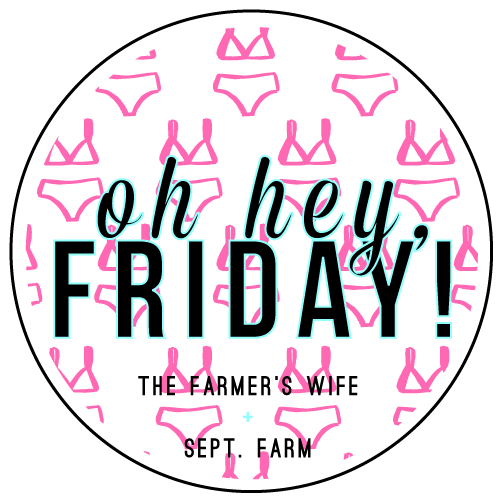 my five - FACTS
1 | fact - i have handed out exactly zero business cards. not even my dad wanted one. in his defense…his hands were dirty.
luckily…my 15 year high school reunion is next weekend. guess i'll be pimping those cards pretty hard.
and no - our class of 2001 isn't crazy about high school reunions. we didn't have a 10 year, so we opted for a 15.
2 | fact - i'm a night snacker. i used to literally snack every single night. i told myself - hey. i worked out hard today. i deserve a snack. it was typically popcorn. or maybe some animal cookies. but as of monday…no more snacking. as it turns out…i wasn't really seeing any further results from all of my hard work over the past two months. i mean…i kind of saw results, but not the results i was hoping. i blame the night snacking. i'm on night four and feeling pretty good about it.
3 | fact -
i always shied away from the lulu lemon bras thinking they were way too expensive and i didn't feel like i could ever find one to fit my big ol' tas. guess what. i found one…and i'm in love. so in love, in fact, i'm going to buy two more. it's called the
energy bra
. granted, i can't wear it for running, but it's been wonderful for every day wear, yoga, HIIT workouts. love it.
should you be interested in snagging one for yourself - i'm a 34DD and picked a size 8. i almost got away with a 6, but it was just a touch snug for the ladies.
4 | fact - my daughter has just about the worst mouth on her. oh. my. jesus help me.
last night when i told her it was time to put her jammies one she freaked out. she wanted to play more. well…things escalated quickly. the next thing i knew she was telling me in a very calm voice, completely deadpan - daddy, bitty, and me are going to weave you and run away. (she can't say her L's.)
ummm…excuse me?
luckily, when our farmer got home i told him what she said and she quickly interjected - daddy, i calmed down and i feel better now. we aren't going to run away.
uhhh…thanks for letting me know my husband and children aren't leaving me.
5 | fact - i've always had terrible patience. goodies for the gal's shared room have been trickling in over the past few months and on wednesday i just couldn't take it anymore. i wanted to get sawyer's bed out of the box and put all the bedding together.
keep in mind - i'm actually moving these beds to the room directly next to this room. but i still have to paint it and i really want to add crown molding and a few other touches.
so instead of working on that project i took the easy way out (for now) and set everything up in kaye's room.
sawyer and kaye were beyond thrilled...and for about two seconds i got a wild hair and considered letting sawyer sleep down there last night...and then i came to my senses.
okay! happy friday! link up time!