first things first - friends...we are on night two of the gals sleeping in the same room. and true to sleep training...night one took the longest, and night two took long...but not as long. soon we'll be in a smooth bedtime routine that's hugs, kisses, stories, songs and out...in less than 10 minutes. (knocking on wood so hard right now.)
i'm thrilled for this moment as i feel like it's going to open up all sorts of possibilities.
no longer will we have to have the girls in two separate rooms when we travel and no more pack 'n play to haul around. love love love this.
but anyway...as you may remember (but probably didn't care enough to remember, which is totally a-okay) my high school reunion was last week. it had been 15 loooong years since graduation. and you guys...i was surprised at how nice it was to see those people. we didn't have a huge turnout, and there were certainly people that didn't make it that i wish had...but it was great. you don't know these people, but -
+ scott was still getting made fun of for his big head.
+ amanda was still super sweet and always ready to help.
+ kemp was still a complete and total smart ass.
+ andrea would have been voted reunion queen (she was prom queen) and might still be the nicest person i've ever met.
the most surprising part was - we have some doctors, a dermatologist, a dentist, nurses, lawyers, pharmacist, engineers, business owners, teachers...not that i thought our class was full of idiots. i just didn't realize our potential at the time. i mean...nampa high isn't known for it's rigorous curriculum or anything...i can't even use capitalization! anyway...
it was just so refreshing to have this blast from the past and not have it be a complete nightmare.
what i'm saying is this - if you have a chance to attend your high school reunion...go. you may be pleasantly surprised!
moving on...
1 |
grab this here snazzy summer-themed button and link back to
Sept. Farm
.
2 | link up your post at the bottom of this post.
3 |
tell all your friends + have a fantastic friday.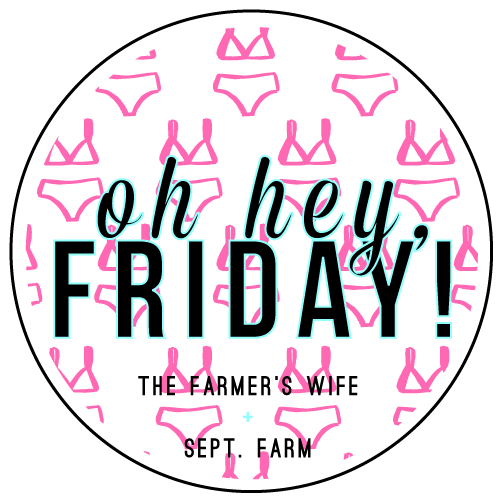 my five - i need your opinion
so...as i was saying...i attended my reunion. on the first night i wore a dress from j.crew. it was great. not as short as i would have liked, but comfortable and cute. i told my farmer it was going to pull double duty this summer and i would also be wearing it to a wedding in august. my farmer was completely happy with this idea...until i realized i wasn't completely happy with this idea.
(see blue dress in first picture. i'm on the right, front row.)
you see...the bride is gorgeous. and then i realized she's going to have all sorts of gorgeous friends in attendance. and then i realized my little, blue, j.crew dress wasn't going to cut it. i was going to need something a little...a little bit more...and a little bit less, if you know what i mean.
don't know what i mean? shorter and sexier.
so i hopped on rent the runway and that's where you come in - tell me which dress to get!
1 | this little pink number - i love it because it's short, i have nude strappy heels already, it's not tight around the waist, and i can wear a bra.
i don't like that bow...but i can get past it.
2 |
the olson twins kind of killed it with this dress. it's so darn cute and sexy and simple and perfect. i looove it. i love that it's short, and i love that it's black. totally classic.
i don't love that it will be tight on my middle. i think i'll be self conscious. but it looked good on the gals in the customer photos...so it makes me wonder!?
3 | hello dream dress. mostly just because it's a shift and i loooove shifts for their forgiveness when it comes to large boobies. i love this dress because it's short and i dig the cutouts.
i'm nervous about this dress because the reviews said it was pretty bright. i don't want to draw attention to myself...my farmer does that just fine on his own with all his sweet dance moves.
4 |
is this dress cute or is it something a 60 year old would wear...from the 60's? i mean...it's orange. it looks pretty great on the model, though. i'd probably need to go get a spray tan. i like the cutout in the back and i like that i would be able to wear a bra. also...i'd be able to eat as much cake as i wanted.
5 |
and lastly...a long dress. *gasp* but isn't this dress
the cutest
!!! i looked at a million pictures of gals in this dress and honestly...even the big chested ladies looked good. i've
never
worn anything like this so it reeeeeallly makes me want to try it. but it's long...and we all know my aversion to long dresses. uh...no thanks. except for maybe this dress. it's just lovely.
downfall - no bra, it's long, and the ribcage might not fit. but i read the straps are adjustable, so...that might help.
and that's that! HELP! help. which dress would you rent? comment below. but before you comment...
link up!