oh mercy. is it just me or is waking up early getting harder and harder? maybe it's because i haven't been working out? maybe it's because i've been eating chocolate chips and animal cookies for the past four nights...for dinner. (seriously...this is not okay.) what i do know is it's having a direct effect on my motivation and exactly my lack of getting anything accomplished in a day.
must get back on track.
so, while i'm doing that, you should...
1 |
grab this here snazzy summer-themed button and link back to
Sept. Farm
.
2 | link up your post at the bottom of this post.
3 |
tell all your friends + have a fantastic friday.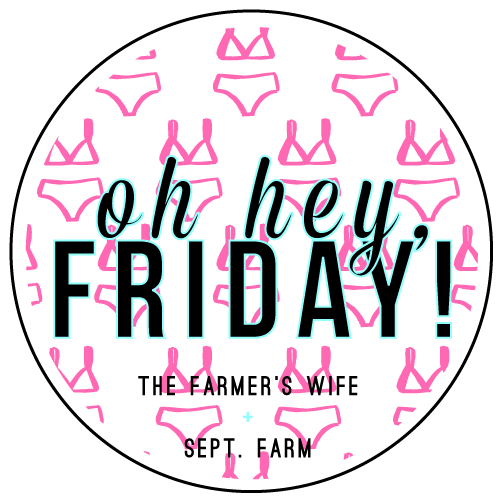 my five -
1 | little mango
so...have you all heard of little mango? well, i'm telling you what...they have the cutest, little clothes you have every seen. i talked about them on snapchat a little bit, and then posted a picture of my sawyer-muff in her sparkle shorts yesterday to my instagram.
(instagram? not following me? well...we should remedy that! click here.)
as i was saying - i posted a picture of sawyer in her shorts, but here is the full outfit. and blah blah blah their clothes are beyond darling...but my girls don't deserve them. my girls deserve $2 shirts from wherever. because, i mean, just look at sawyer.
when we went out to do her little photo shoot to feature little mango and share with everyone how darling their clothes are...she cried the entire time. so basically now i'm just talking about how my farmer AND sawyer are trying to sabotage my blog. i'm doing kaye's photo shoot today in her little mango clothes and i have a feeling it's going to go about the same way.
2 | french braid
i can't remember if i shared this or not, but it's worth another mention if i already did...my best gal...she
finally
has enough hair on her sweet head for some french braid piggies. we've waited four long years for this day. granted...she's still learning to hold still for 10 minutes and i'm still learning to negotiate five baby-fine hairs...but together we put together two sweet braids...before bedtime...because she's recently informed me that she hates her curls. she calls her curls her
crazy hair
. bless her.
3 | fair party
while we were in mccall last week...and all four cousins were together, my younger sister's daughter celebrated her second birthday. my stepmom just went to the dollar store and snagged color coded fairy goodies for a perfectly whimsical party for her four granddaughters. kaye was in all purple, sawyer in green, bailey in pink, and reese in blue. they all had skirts, wings, crowns, wands, necklaces, bracelets...they were in woodland fairy heaven. it really was the sweetest scene.
so if you're in a pinch for a cost-effective birthday party...apparently the dollar store is where it's at. and trust me...it'll be a huge hit. don't forget the tattoos.
4 | my new home office
so...i haven't even started in on the girl's new room and i'm already chomping at the bit to get sawyer's crib out of my new home office. right now i have my eye on some west elm desks.
i'm loving the mid-century modern paired with a nice, clean white. i'm also loving that teal chair. but maybe it's a little too much? as in, too wild? normally i'd go for that white tufted chair, but 1 - it doesn't really match the style of the desks, and 2 - white furniture. i just can't get on board with that yet.
5 | workouts
help! i've been working out awesomely all summer. i've also been so so consistent with my nutrition and found a really great balance when it comes to eating healthy but also not depriving myself...which was a terrible habit from my past. since may i've managed to drop eight pounds and several inches here and there. i was really feeling great! ...until i wasn't.
in a matter of weeks we had several birthday celebrations, a wedding, and vacation. true to form, i threw caution to the wind and said i'll get back at it when everything calms down. well...things have calmed down and my 33rd birthday is exactly one month away. help!
i need some motivation and your tips and tricks. oh...and maybe a healthy recipe or two or five sent my way. believe it or not...i'm tired of grilling. unless it's marinated pork chops with mashed potatoes. i made those last week and i've decided i should NEVER go that long without eating mashed potatoes again. downright sinful.
okay! happy happy friday. i'm probably going to go change into my workout clothes and then not workout. guh.