here we are. nearly two weeks out from a broken elbow and one day into fall.
ahhhh. glorious fall. can we all just breathe in flannel and scarves and boots and warm beverages and soup season.
the very best season of all - soup season.
riddle me this - is there a place in the world where it's fall all year long?
take me to there.
but before i go to the glorious place of boots and crisp air...
1 |
grab this here snazzy fall-themed button and link back to
Sept. Farm
.
2 | link up your post at the bottom of this post.
3 |
tell all your friends + have a fantastic friday.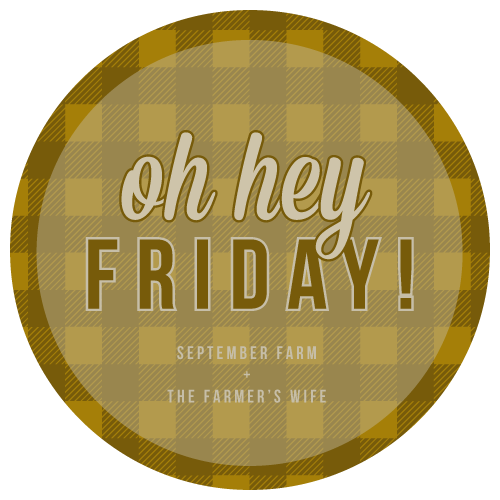 my five -
1 | illustrations
i've discovered my new favorite hobby since i can't really work out. simple illustrations in illustrator! seriously...so easy and i'm so pleased with myself when i finish one. i am totally going to start adding these little illustrations to my cards / invitations over at
wink & ink
. i'll be starting with those donuts. because...donut parties - so hot right now.
2 | speaking of design...
i'm working with a gal right now on a little rebrand. her custom dessert business is really taking off and she's as busy as ever...so now we're going to get her branding materials looking as delicious as her desserts!
we're in the middle of her branding process and there are a few edits to be made...but i couldn't help but share how it's turning out. i'm in love.
i'm also in love with all her cookies. friends...if you're in texas and you need an order of custom cookies...she's your gal! you can find her on
facebook
and
instagram
!
3 | garden
i don't know what it is about picking goodies from my own garden...but i get a huge thrill out of it. these sweet little pumpkins were the latest treasures. i only planted little mini pumpkins this season and plucked these five. there are about five more still on the vine...i'm not sure if they'll make it to anything worthwhile...especially since the weather has been super nasty. we'll see.
however...next year. next year i expressed to my farmer that i wanted to do a large pumpkin patch and he fully obliged. i thought it would be super fun to plants all types - large, small, orange, white, green...all of them. then, we can have neighbors and friends over to pick them and take them home. i mean...we have the space for it. we may as well.
4 | birthday celebration
i'm officially 33. 33...a very special year. the year your have a broken elbow. speaking of broken elbow...did you know you can't put your hair in a ponytail with a broken elbow? you also have to open all jars or anything with a lid by placing it between your knees and twisting with your good hand. i also learned you can chop things with one hand - onion, apple, celery. you can sweep the floor by placing the handle against your neck and using it as leverage. then you pull with the other hand.
you guys - having a broke elbow is absolutely ridiculous.
but what's not ridiculous is having a birthday celebration...with good friends...and chocolate cake.
5 | these turkeys
oh. my. mercy. what am i even going to do with these hams. they can be the best and just the worst all in a mater of moments. and lately...kaye's base-volume level is nothing short of loud and shrill. she's a shouter...except she doesn't know she's shouting until i tell her to bring it down a few levels.
and sawyer - sawyer has every intention of making me feel like the worst mother before her second birthday. not only does she rarely let me hold her, but she's continued down the path of screaming at me when i look at her.
the fact that i'm changing her clothing and diapers one handed isn't helping matters. i'm preeeetttttty sure she thinks i'm an idiot. just use the other hand...mom.
but then you snag a moment like this and everything gets erased. clean slate...until she screams at me again. daddy's girl...110%.
happiest of friday's friends!