happy saturday! i love saturdays. i love saturdays even more when i have a saturday confessional to share. i love saturdays EVEN MORE when they aren't my confessions...even though i really do have a few stored up. i mean...we're talking some moments of insanity. i was
that
crazy girlfriend.
but back to our guest of honor! i have lauren on the blog today from
lot 48
sharing all about her experiences in london ranging from the royal wedding to a brazilian - two things i could easily get jealous of...and i think it's safe to say i'm not the only one.
SATURDAY CONFESSIONAL with LAUREN @ LOT 48
hello September FARM readers!! i am lauren, and i blog at lot 48!! i am sooo excited to spill my confessions to you today!! i have been wanting to do this for a while actually and am so glad i am finally doing it!!

in spring of 2011, i did a study abroad in london. so i thought i would share some juicy confessions about my time there, because let me tell you, i sure have them!!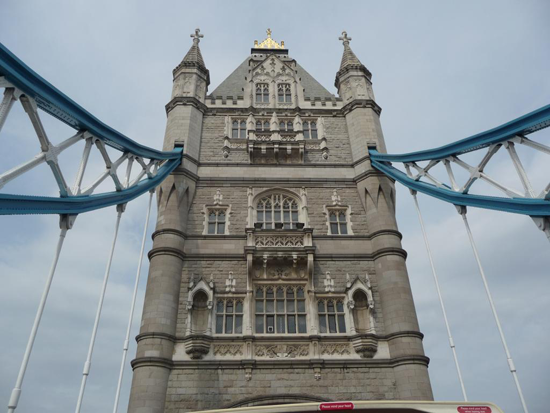 i lived right across the street from hyde park and my first day in london, you can understand that i was totally enamored with everything that i was seeing/hearing/smelling/all the other senses. i was walking into hyde park when a gentleman on a bicycle passed me and said "watch out love!!!" and i got all kind of giddy because it was my first real british experience.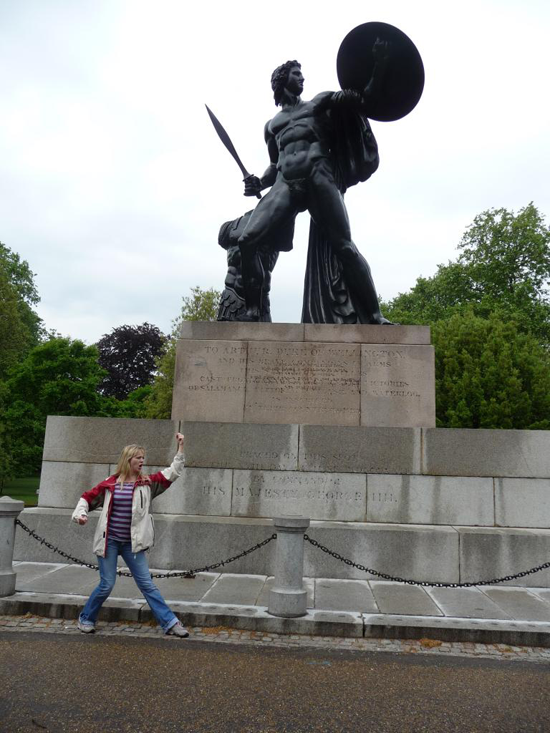 and then i saw this guy and had to re enact him.
and then! and then!! guess what!! the royal wedding happened! some people from my group were crazy enough to go to buckingham palace the night before the wedding and camp out all night long so they could get a glimpse of kate driving to westminster abbey, but i was feeling sane, so i stayed in our flat and slept like a baby. but! the wedding was projected on enormous screens at hyde park!! take a look.
i can't remember if that is kate walking down the aisle or walking into westminster abbey. i think it's walking into the abbey.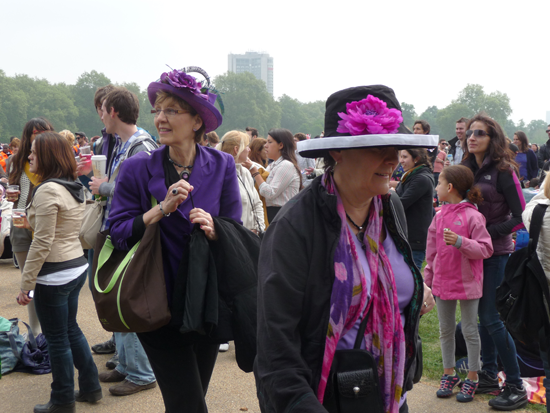 this was a royal occasion!! of course you had to wear your best hat!! there were also tea in thermoses everywhere and crumpets, scones and cookies on blankets everywhere as well. picnic time!!
some people wore white dresses to pretend they were brides. i should have done that!!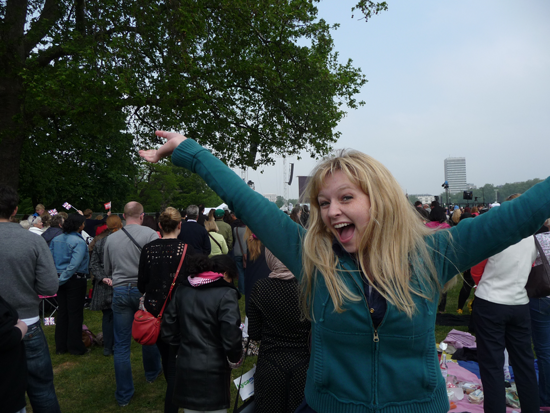 my congratulations picture to the bride and groom!! hooray!! you can read a more in depth summary of the royal wedding on my blog here.
some of the girls who stayed up all night at the palace made friends with some lovely brits from brighton. when we made a day trip there, we went out with them at night after everyone else in our group had left. the brits are the man on my right and the girl on the far right. we still keep in touch to this day!! they were like "we don't know where to take you because you don't drink!!" so they took us to this lovely cafe where we had scones with cream and jam!! a british tradition!!
london was the happiest time of my life. sure, there was school and i had two classes but i really couldn't care less about them. the world was my oyster. there is so much to do and see in london!! every day was a new adventure!! we had class field trips and because it was a theater study abroad, we had mandatory plays we had to go to, so i saw about 6 plays at the globe theater.
actually, my ex was friends with two of the people on my study abroad and he was on a study abroad with his school the same time i was on a study abroad with mine. i was so paranoid the entire time that i was going to see him. that man broke my heart into a million pieces and is a scum of the earth. i don't hate a lot of people, but i really, really hate him.
we went to a matinee at the globe theater of the taming of the shrew and afterward we were all hanging out and chatting...and there he was - the devil. i refer to him as voldemort because that is how evil he is. a girl that i was closest to on my study abroad was standing in front of me so i hid behind her and pulled at her jacket and said "that's my ex. the ex i told you about." and she said "wait, what?" it took her a minute to process because what are the odds of running into the spawn of satan thousands of miles away from home? i said "get me out of here. hurry, before he sees me. i'm going to run. come with me." and i ran. faster than i have ever ran in my entire life. my friend, camille, yelled at me, "slow down, i can't keep up!!" but i wanted to put as much space between me and him as possible. seeing him made me want to vomit. camille was going to school to be a nurse and she took my pulse and said "wowwwwwww." then we went to mcdonald's and got a cadbury milkshake and then went to a toy store.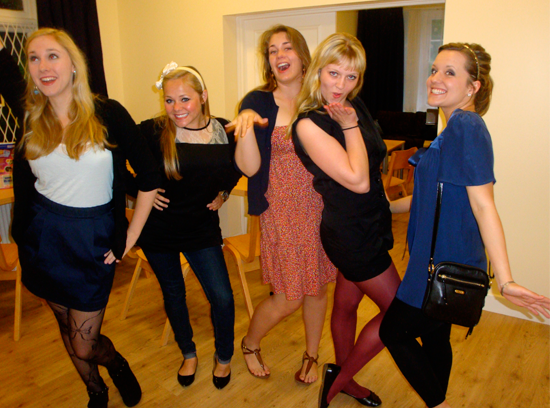 i was feeling so crappy that night, but i wasn't gong to let voldemort ruin my plans with my friends. we had plans to go clubbing, so clubbing we went!! we didn't know where to go, so we got off the subway at picadilly circus and figured we would just walk around until we found a fun club to go to.

i saw a hip girl our age and said "look guys, a fun girl! let's follow her!" so we did and we totally freaked her out. she walked really fast and she kept turning around but i am so glad we followed her because that club was the best club we had been to in all our six weeks of living in london.

now, let me clear something up for you. if you read my blog already, you know that i have never had a drop of alcohol in my life. but that doesn't mean i don't like to go to clubs to go dancing!! you can read this fun post where i speculate what kind of a drunk i would be. i'm pretty sure i would be a sad drunk. anyway...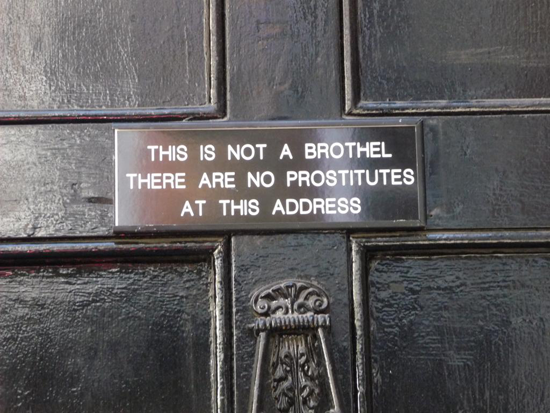 this is one of my favorite stories to tell about my time in london. we got off in soho, and being the newbies we are, we didn't know what that meant. it was late afternoon, and we were wandering around getting to know the city. we soon realized that we were in the red light district. oh dear, it was bad - sex shop after sex shop after sex shop. thank GOODNESS it was late afternoon and not night time!! we found this on one of the doors.

poor family who lives in that house! how many times must they have had their door knocked on by some gross person who wanted a prostitute??

now, this is the part where i don't have any pictures (!!!) and i can only tell you this because i am not writing this on my blog because my mom and my sisters read my blog, and i can't tell them this!
now for the GOLDEN STORY EVER OF THIS WHOLE THING. IT INVOLVES A HUNKY BRAZILIAN.

i met a very, very hunky brazilian man who gave me a very, very memorable last night in london. i saw him a few days before i was leaving and when i told him i was leaving on friday, he said that he needed to take me dancing on friday. this was the second time that we would have gone dancing, the first time i brought two friends with me, but camille realized she forgot her ID when she got there and was going to go home. but since paulo was a body guard and knew every body guard in the city he just talked to the bouncer and they let camille in.

anyway, this time we were going dancing just the the two of us. i waited for him at the tube stop as we agreed upon and was soooo excited!! but he was super late and he pulled up in a car with a friend. i was so disappointed.

he took me to a brazilian club where he taught me a traditional brazilian dance. oh, btw, i had turned 21 three weeks prior and he was a month away from being 32, but MAN was he fine. i really could not have cared less. he was talking to all his friends in portuguese and we were dancing real close and you guessed it, we started making out in the middle of this brazilian club.

then he dropped his friend off, held my hand, and took me to another club. he chatted with the bouncer there. and got us in for free. we made out at that bar, and then we went to another bar and got in for free again. we made out there and then i told him i was disappointed that i never got a picture walking down abbey road where the beatles walked in that iconic picture so to abbey road we went where he picked me flowers from someone's porch and bought me chocolates when he had to fill up his car with gas. it was just oh so very magical. what a way to send a girl back to america right??
so those are my study abroad confessions. paulo. oh paulo. what a sweet memory you are. you are divorced now. and who knows what you are doing. but i don't care. you gave me the best going away night ever. i got home at 3 am and i left for the airport at 6. worth it.
those are my confessions!! i know that was long, but i had so much to say!! london was just the absolute best time!! be sure to check out my blog
lot 48
and you can also find me on
pinterest
,
instagram
and
twitter
!! thanks for reading!