excuse me while i go back to bed.
you guys...i'm not surviving over here on the blogging front. all my sleep reserves were shot when i got sick the night of thanksgiving.
what i'm saying is...i'm going to need just a few more minutes to get my link-up on.
but you don't have to wait. grab yourself the new christmas button!
let's do this...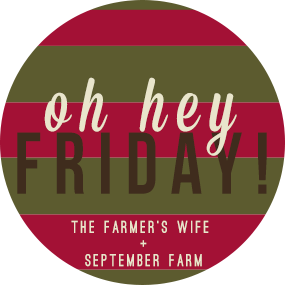 write up a little post about five things. anythings.
head back over here and enter your link at the bottom of this post.
and pretty please don't forget to link back to our blogs and/or add the
oh hey, friday!
button (found just above) by copying the HTML into the HTML section of your post so that others can link up as well! that's it. now get busy.
MY FIVE - blogs you should know
you should know jessica because she's a total doll. as in...just gorgeous. she also just revealed that she's pregnant with baby #2...and baby #2 is a girl! you know how partial we are for girls here on the farm. jessica also shares all her fashion finds...and has great taste...and has a darling little boy...and a doctor husband...and and...go check her out.
one word - funny. another word - knows how to have a good time. okay...that's a phrase. but seriously...if there was a blogger i would want to go hang out with...it's katie. not only does girlfriend work in casino marketing (i'm guessing she could set me up at a sweet blackjack table), but she also knows how to vacation. seriously...i feel like she's going on vacations all the time...so maybe she would take me with her? let's not forget about her adorable little man, cruz. i creepily want to set kaye and him up on a little date, but cruz might be too sweet for her. did i mention katie is funny?
all you have to do with christina is roll some great hair, with a super cute little girl, throw in some southern sweetness...and you have christina's blog. oh...and did i mention she has amazing hair? so jealous. christina posts the sweetest pictures of her little gal and also shares delicious recipes. i'm all about the food.
ashley...more amazing hair to be jealous of. not to mention she has the cutest little girl with the very very best style i've ever seen. i'm in awe every day when i see the outfits her waverly wears. kaye is lucky if i get her in a pair of stretch pants and a sweatshirt...seriously. ashley is also expecting baby #2 and i'm so excited to follow along!
5 | karli @ september farm
why not plug my own blog, right? i mean...i'm sleep deprived, married to a farmer, and have to of the cutest gals in all of farm country...you should totally follow along!