tonight's the night. i get to take a step into my past by 15 years and mingle with people i haven't seen in so many years.
it's high school reunion time.
tonight we're meeting up at a restaurant in downtown boise for a simple cocktail hour. it should be fun. good food with live music and a dessert bar...i can get on board with that.
i'm just hoping i don't get too nervous...pound three drinks...and end up making a fool of myself.
tomorrow is a family bbq at the high school complete with a bounce house obstacle course // face painter // balloon animal maker. i'm really really hoping it's a good time. i'll probably pound three drinks before that event as well.
but before i pound said drinks and can't type anymore, let's get our link up on...
1 |
grab this here snazzy summer-themed button and link back to
Sept. Farm
.
2 | link up your post at the bottom of this post.
3 |
tell all your friends + have a fantastic friday.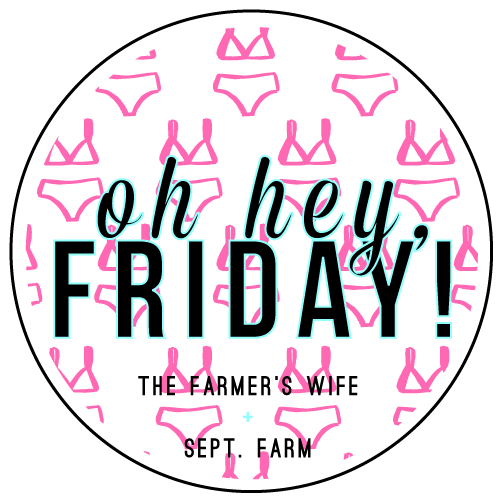 five things about my high school self
1 | my high school self was on the speech and debate team. that's right! we would travel to tournaments all over the state and get our nerd on. i debated parliamentary style and also participated in an event called humorous interpretation speaking. i'll go so far as to say i even won a few trophies and competed at state. guys...i was super cool.
2 | my high school self wanted to be a cheerleader. yep. i really really did! i would have been pretty okay at it too. i have rhythm and energy and a big voice. unfortunately, my dad would have killed me. when i suggested such a thing at home he said i had to write a 10 page essay on why i wanted to be a cheerleader and even then...no guarantees. i was no fool - i ended up playing volleyball and softball for four years instead.
3 | my high school self was my senior class vice president. uhhh...did i fail to mention i ran my freshman // sophomore // junior year and was NOT elected to student council? yeah. again, super cool. but i didn't have a quit in me. either that or i had too much self confidence. so i ran one more time my senior year (basically uncontested) and managed to get on the council. jokes on me - i ended up having to plan the reunion.
4 | my high school self drove...
i drove the sweetest little cherry red subaru. i looooooved that car. loved it. it was a stick shift and it sounded like a little motorcycle because the muffler needed replaced. one time i locked the keys in the car while it was still running...parked across the street from the school. unfortunately, school was starting and i had never been late to class (agian, nerd). i called my parents from the office (no cell phones) and booked it to class. they came and saved my little car. i'm sure it was on the verge of overheating and bursting into flames.
5 | my high school self didn't drink or go to parties. ummm...not because i didn't want to. i was just never invited. but keep in mind...i still thought i was really cool and popular. i literally didn't know these parties were happening. i was just like...la la la...in my own world, apparently.
so...here's to high school. here's to memory lane. here's to linking up.
ps. you can read my first high school post here.