wheeeeerrrrre is time going? it's like...poof, i've lost four days.
it seems like we just got to mccall and already it's friday and the farmer and i have to head back down the mountain to go to a wedding.
uhhhh...not that we're mad about going to a wedding. if there's one thing my farmer likes to do it's cut a rug. what does he like more than that? cutting a rug with he best friends. what does he like more than that????? cutting a rug with his best friends...while drinking...and eating wedding cake.
see what i mean? it's basically been a super great vacation (so far) that we get to endcap with one of our most favorite things - a wedding.
oh! and what makes me excited about the wedding? well...not just the cake and the dancing. but i realllly realllly love when the bride and groom look like they belong on top of a cake. and in this case...they look like they belong on top of an abercrombie and fitch cake. well, at least the groom does.
seriously...when i first started dating my farmer and i was meeting all of his friends for the first time, i was told this particular friend was an abercrombie model and i TOTALLY believed them.
and the bride?! gorgeous. she's just gorgeous. and so so nice. and funny.
i'm caught red handed - i TOTALLY have a crush on both the bride and groom. now i'm embarrassed...
moving on...
1 |
grab this here snazzy summer-themed button and link back to
Sept. Farm
.
2 | link up your post at the bottom of this post.
3 |
tell all your friends + have a fantastic friday.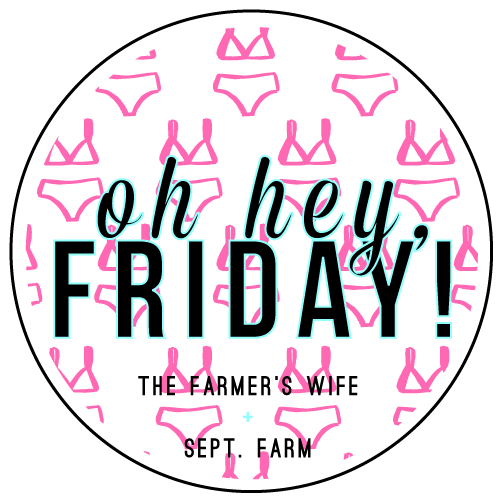 my five - a photo dump
speaking of being caught red handed...i didn't prep an oh hey, friday! fail! and since we're on vacation and it's already 6:08 (i slept in) i'm going for a skippy-skip this round.
instead i'll do a photo dump thus far...
on the first night we went out to dinner and had some seriously amazing food and drink...plus the restaurant was right on the water. i mentioned that if i was as drunk as i was the previous saturday i would have swam out to the giant water trampoline that was hanging out out there. seriously...i'm still recovering from last saturday. ouch.
my sister and her husband came with us to help celebrate and we instilled our wisdom of six years of wedded...bliss?
and i made everyone pose for pictures exclaiming, "IT'S FOR THE BLOG!" because i'm so tired of not having any images.
the
for the blog
excuse didn't go over well and i was met with a lot of reluctance. mostly by my farmer. but this beverage was a great subject.
and don't get me started about the ice cream with the brick wall part of the night.
i was like...
come on. one picture. please? okay...can i borrow your giant ice cream so i can take a picture? again, it's for the bog.
my farmer - so difficult! i swear he's trying to sabotage me.
so i asked if i could give him a kiss. nope. wouldn't let me do that either. you guys...he may be cute but he's so damn stubborn.
i should have just done a post on
5 REASONS MY FARMER HATES MY BLOG
.
but guess who would be an awesome blogging husband? yep. this angel. i'm not super sure why my sister is sad about it, but...maybe it's because they've only been married half as long as my farmer and me. we'll see where they're at in three more years.
yesterday we took all the gals (there are four cousins - all girls so far...) to the elementary school playground. i'm telling you - go on vacation and just take our girls to a park. they'll think it's the best day of their lives. mostly because we don't have a park where we live. #farmproblems
and after park time - we caught some pool time. i swear if these girls don't sleep in until at least 8 am...they have to be absolutely exhausted.
but before we part ways...let me leave you with a note about our sweet sawyer-muff.
ummm...sawyer? i hope you're going through the terrible 22 months...because you're kind of not very nice right now. and i bet your farmer would like to not hold you for 23 hours and 57 minutes of the day. and i wouldn't mind if you didn't scream at me when i look at you. seriously. quit screaming at me. love you, gal!
okay! happy friday! happy weekend!
let's do this thang right!
link up!