in response to my little third baby dilemma i say -
you guys are the WORST!
now i'm either going to give my children away or have two more - bringing my total to four.
i kid. i kid.
thank you so so much. getting that internal debate down on "paper" did relax my brain.
and for all of you who asked about what my farmer thinks - that guy. that guy would have five more baby girls if i was on board. he would wear a double ergo (does such a thing exist?) and wear one baby on his back, one on his front, put one on a seat next to him in the tractor and i don't know what he'd do with the other two...but he's very smart and creative. he'd figure it out.
so, no. he doesn't want to try for a boy. he wants to try for another girl. save me.
i know this is crazy coming from a family of three girls.
all this to say - my farmer is totally happy and in love with kaye and sawyer and would be fine with being done. but he'd be super jazzed to try for another. and by
try
...you know what i mean.
anyway, while i'm running away from my farmer...
1 |
grab this here snazzy summer-themed button and link back to
Sept. Farm
.
2 | link up your post at the bottom of this post.
3 |
tell all your friends + have a fantastic friday.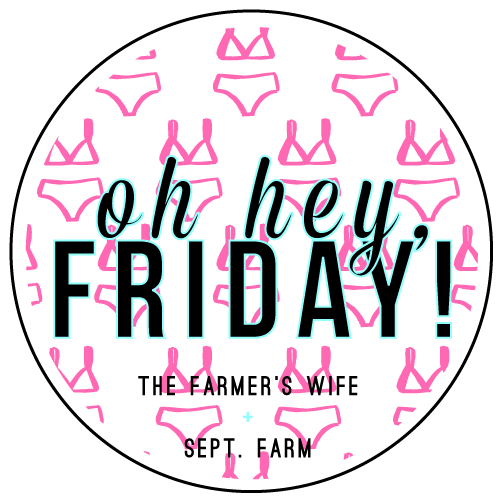 my five -
1 | a birthday
my two best gals have birthdays coming right up. sawyer was born on october 24th and kaye on the 30th. i swore up and down and sideways i wasn't going to do anything but make them a cake this year. those huge parties are just too much damn work and i'm not sure if i'm even having fun. i mean...i am...but i wonder if i would have more fun if it was more about their actual birthday and less about a 50 ft bounce house in our backyard?
regardless...i couldn't help but start to design a little invite. not a real invite...just an invite that i'll soon be adding to my etsy shop. this is your friendly neighborhood reminder...i design custom websites! or you can look at some of my premade ones over in my little esty shop!
2 | speaking of design...
i've been working with some fellow bloggers on a few goodies! my latest was a little design board for a gal starting up a blog called finding fusion. krista is a lawyer by day and moving into the blogging scene...by night? or maybe just in her free time. regardless...she hired me to put together her branding for her blog and i can't wait to see how she incorporates all of it into her new wordpress theme.
we started off with several different logo concepts and color palette directions.
we ended up finalizing with this one!
we also put together her social media covers for facebook and twitter to give her brand a complete look.
3 | mr. selfridge
call me the biggest nerd ever...but i discovered this show a few weeks ago and i haven't been able to quit it. if you're looking for a fun watch - you can find all the seasons on amazon prime! please note...your husband or significant other probably won't be into it.
4 | what's for dinner?
yuuuum! i bought these butter leaf lettuce things at costco this week and i just absolutely love them in place of anything bread. this week i used them as a taco shell as well as a bun for a hamburger. not only is it healthier, but a great way to get some extra greens! and seriously...i did not miss the bun or shell. i doubled up the lettuce leaves for added support and it worked wonderfully! try. this.
5 | a pictorial recap
how could i not want 25 more little girls? i mean...not only would our house be insane, but i'd probably FINALLY get my own reality show.