as my farmer's to-do list is winding down...mine is gearing up.
i can't say i'm mad about it.
it's mostly fun goodies - minus all the cleaning.
why is it that there is such an intense obligation to clean your house before a party...even though you KNOW it's going to get oh so dirty before a party. then you just have to clean it again afterwards.
the bonus? whenever we know people are coming over...it's inevitable projects will get done.
carpet replaced in the downstairs bedroom - check.
plant some fall mums - check.
replace tree that died three months ago - check.
wipe chocolate smudge off wall - check. (seriously...it's been there for a week and just keep not doing it.)
clean microwave - because everyone knows your microwave is going to be looked at...uh no. - check.
finish up some fall landscaping - check!
see! things are happening.
then my sister and her best gal get here on wednesday...and we'll be in business for magical unicorn party time.
kaye and sawyer couldn't be more excited.
but before all the gold glitter starts raining down on me...
1 |
grab this here snazzy fall-themed button and link back to
Sept. Farm
.
2 | link up your post at the bottom of this post.
3 |
tell all your friends + have a fantastic friday.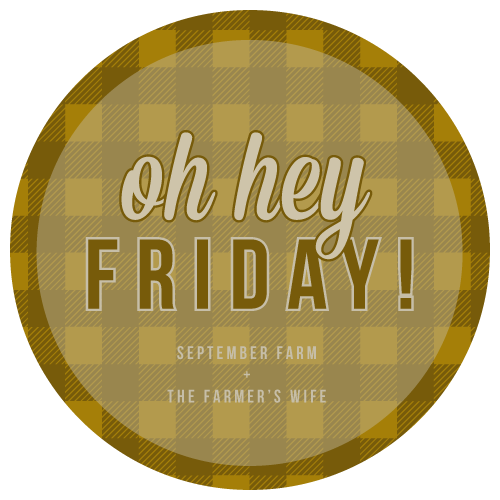 did you see?
W
ink & Ink
is having a little custom card giveaway!
if you want to have a little look at
Wink & Ink
you can see all the premade goodies - but i do custom work too! (actually - i do more custom work than premade. maybe that's saying something about my premade designs...i don't know.)
anyway -
Wink & Ink
is giving away one free design & print! meaning...if you have a party coming up (birthday / shower / holiday / etc.)
Wink & Ink
would love to design and print your invitations!
all
Wink & Ink
invitations are 5.5 x 4.25" and printed with a matte finish on 100# brilliant white, glorious cardstock. it's nearly double the thickness you would find if you printed at say...office depot or vista print. super fancy, friends.
to enter for a chance to win the sweetest little set of custom invitations all you have to do is...
a Rafflecopter giveaway
and tell your friends.
2 | UNICORNS ARE MAGIC
but seriously...they are. i mean...i have two magical unicorns running around my house every day these days. just look!
we're in full halloween / birthday party prep around here and it's all going to be worth it. unicorn tails have been made...now i just need to decide if i'm going to tackle wings or if our unicorns will be flightless. unicorns don't
have
to fly. they have to do a really good deed to get their wings...or something like that?
3 | THIS MIGHT SOUND CRAZY BUT...
for the past four years i've been the mom of those kids that you were scared to take in public. were they going to scream? were they going to sit still? kaye and sawyer were just so damn unpredictable. but friends...i'm happy to report...
just look at my children! and guess what?! not a single drop of hot cocoa was spilled in the making of this outing. sawyer only screamed one time because i wouldn't let her take a frapaccino keychain and when i took them both into the bathroom neither one touched a single thing. starbucks is now serving almond milk...and life is good.
do i dare take them to target next week?
4 | ILLUSTRATIONS
i saw this little fall looking pup and knew i wanted to draw him up. he was just so so cute. so...you know. happy weekend!
so...earlier this week i wrote a little post about
minted
holiday cards. well...minted is a company i would just love to keep working with. the trick? they track the performance of your post! like...to see how many people engage with that page. so, if you have a few extra minutes and you want to
pop over to my post
and see a sneak peek of our family pictures we just had snapped...i'd just love that. and if you
happen
to click one of the links like...20 or two or one time...i'd love that too.
happiest of weekends! may your cup overfloweth with all things pumpkin-spicy / apple-cidery / salted caramel mochay...etc. etc.
and don't forget to enter...