never have i been so angry with my grandma. she was a classy gal. she was an avid golfer at the country club. she was strict. she even bought me a book once all about manners...even though my sister and i were probably two of the most well-mannered pre-teens around. like i said...strict.
but yes - never i have i been so mad at her and her "manners." she informed me many elections ago,
"it's not polite to ask someone who they voted for."
she passed away years ago...but many of her words still hound my ears - including those.
but this election! gah! i've never cared who joe and sally voted for. but this election. yes. i want to know who everyone voted for. it's so interesting! there are so many dynamics in play this election and it's blowing my mind.
i bet mitt romney is really kicking himself for having not waited eight years to run. i don't align with a single party...but i'm pretty sure he would have been a shoe-in.
also...did you know that your voting is public record. not necessarily who you voted for...just if you voted? so...nothing like a little peer-pressure / judgment to get you to the polls.
i also chatted with my farmer yesterday and asked him if there was one person he really respected and thought,
"yeah...that's a good guy or gal or group,"
who's endorsing trump. i proceeded to read most of a list of over 600 names of people who endorse him. of those 600? don't ask. it's not pretty.
then my farmer showed me a handy little site where you can see each of the four nominees and where they stand on 75 issues. it's just a little chart and gives a great snapshot if you're looking to quickly educate yourself...
click here
.
okay...that's
plenty
for this friday morning...get linked up!
1 |
grab this here snazzy fall-themed button and link back to
Sept. Farm
.
2 | link up your post at the bottom of this post.
3 |
tell all your friends + have a fantastic friday.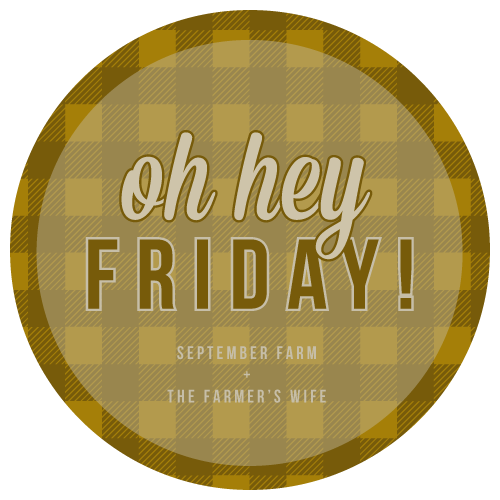 1 | GOOD GIRLS REVOLT
friends! do i have the next show for you to glue your eyes to! it's called good girls revolt and can be found on amazon prime. it takes place in the early 70's at a news magazine...and it's just such a fun watch. good girls revolt - add it to your list.
2 | DIY POM POM THIS + THAT
so...i have big plans this holiday season to attempt a little DIY project that i saw a few years ago...bought the yarn a few years ago...and then didn't do it a few years ago. but this is the year it's going to happen!
here is my inspiration -
now don't get me wrong. i fully recognize that there are about 700 little poms that i'll need to painstakingly make...but i'm determined. so far i've completed exactly one. one little, cute pom pom.
and maybe i'll even make a few extra to decorate our faux mantle. i've really got to do something about our mantle.
the below pom pom took me approximately seven minutes to make. i really hope the process gets faster.
3 | POST REWIND
did you catch my posts earlier this week? i wrote three. yes three. it was a big week for me and i even have several in the works for next week. don't ask me who i am. it's like i'm nesting but in blog mode or something.
i wrote all about my two best gals and their
gold / unicorn explosion birthday party
.
and then i splashed my farmer and his two best gals all over the blog on tuesday...because when you're a good-looking farmer with two gorgeous daughters...it must be done. it must. you can see all those pictures
here
.
and on wednesday i just had to recap halloween. again...it's all about unicorns. and there may be a side story about how i got into an argument with a know-it-all eight year old who was trying to pick on kaye. gad - i get so defensive. she's eight, karli. eight. lay off her.
click here for all the unicorn frolicking action you could ever want
. fair warning - it's ridiculously, mystically cute.
4 | KAYE IS ON A BIG GIRL BIKE!
(i snagged this shot on my
instagram
story...because i have to be covert and all.
no photos, mom!
)
no seriously...like a legit-no training wheels-don't help me mom-bike. for real - she won't let me touch her. she won't let me cheer for her. she barely barely let's me watch her. and i swear...i'm not a helicopter mom. she just...wants to do it her own way. and you know what...it's obviously working for her. girlfriend JUST turned four. in fact...she officially rode without training wheels a few days before her birthday...but now she has it down. no more scary spills.
i guess i should have known it was going to happen early. i mean...girlfriend walked at nine months. that was shocking and absolutely terrifying. farmer and i spent the next two months flinching every time she took a step knowing she could take a nasty digger at any moment. clearly she survived mostly unscathed. i'm crossing my fingers the same thing goes with bike riding.
5 | HOUSE INSPIRATION
it's going to happen. these next few months are the months. we are going to hire a carpenter and all our house projects are going to be completed.
you would think this would be so easy. it's sooooo not. you see...we live in the middle of nowhere and nobody wants to drive to nowhere to do work. i practically had to beg and beg and beg my dad to help us with our landscaping. and i get it. who wants to haul a 20 foot trailer hauling a mini tractor for two hours. nobody i know.
so if you are semi-local and you're reading this and you just so happen to know a great, honest carpenter and that carpenter just so happens to have time...i have a project list that's growing daily (not to mention we would hire him to help us build our garage). please share is information with me!
anyway...one of my projects that recently was added...
i found this lovely inspiration on
pinterest
. it's a faux shiplap instead of a more formal moulding for the staircase...which seems more appropriate for our farm house. i love everything about it, including the black and white pictures on the ledge on the landing. we have that landing - so you can count on me doing that. i think i may even add a plant to a basket somewhere in there.
okay! link up time and have the happiest weekend!