guys. time warp. where did the week go. is it seriously friday morning at 6:04 am and i have 19 words written for
oh hey, friday!
? story of my life lately.
i guess this is the point in the holiday buzz that i say, "i can't wait for the holidays to be over."
except i love the holidays! it really is the most wonderful time of the year! but this year...this year feels like i'm scrambling.
anyway...
1 |
grab this here snazzy holiday-themed button and link back to
Sept. Farm
.
2 | link up your post at the bottom of this post.
3 |
tell all your friends + have a fantastic friday.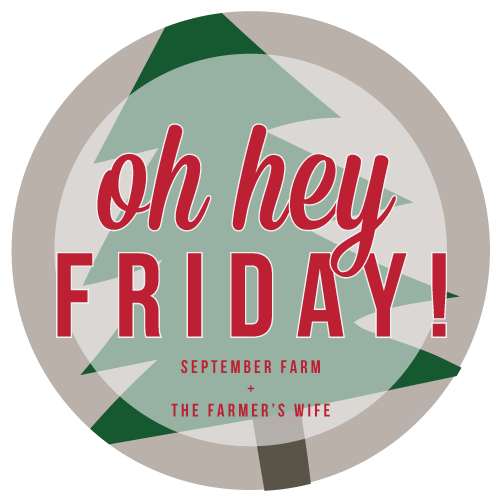 1 | BATHROOM UPDATE!
i have a hilarious story. so...last week i chatted about how our bathroom was finally getting finished. we even hired a contractor...which was huge for my farmer since he feels like he should just be doing everything himself.
well - i swear it's the curse of where we live. on the day the project was to start our contractors engine blew in his truck. he ended up renting a u-haul to drive his trailer (with all the tools) out here and arrived at 7:30 pm. then, on tuesday, his loaner truck blew it's drive train. (what's a drive train?)...so he ended up driving out another car, but couldn't pull his trailer (that he and an employee are staying in during the project...because we live so far away). so on tuesday they didn't get here until 2:30 pm. they worked and worked and at 9:30 pm my farmer gave them a farm truck so they could drive home and bring back their trailer the next day. it dumped snow that night. i thought to myself - no way will we see them. BUT WE DID! they were here bright and early on wednesday and worked until 9:30 pm AGAIN! and last night they worked until 10 pm.
they start tiling this morning and i couldn't be more thrilled!!
2 | WINK & INK
well - i figured since wink & ink has been getting a steady flow of business as of late i should probably look slightly more professional.
i went ahead and ordered stickers and thank you cards and business cards and even little return address stickers. i haven't had a chance to send them out yet, but i can't wait to package something and pop it in the mail!
3 | GOALS UPDATE
last week i wrote up some goals and i thought i'd report -
1. no snacking on chocolate chips. it's become a real problem now that i'm denying myself animal crackers...with them being gluten-ridden and all.
kinda nailed this one. i think it was tuesday when i accidentally broke down and grabbed a handful right before dinner, but other than that - no more chocolate chips!
2. work out at least every other day. this seems crazy to me considering before i broke my elbow i was working out every single day...but i guess all it takes is getting out of the habit. now i need to get back into the habit...
ha. how about zero workouts. in my defense, i'm still healing an injury...so i definitely can't run. but that shouldn't mean i can't do other stuff. nothing but a big fail on the work out front.
and 3. get my workouts done before the girls wake up. i've been telling myself that i'll workout when they're playing after breakfast...but it just hasn't happened, so i obviously need to change that right up.
oh...nice. i forgot this one was even a goal. whoops.
4 | SNOW DAY!
oh my mercy - so much snow! and more coming down as i type...and more expected for this evening.
that didn't stop my two best gals from getting out there and playing.
i was so proud of them. kaye got snow down her back and didn't even notice. sawyer tromped around in her little hunter rainboots because...diva. (she refused to put on her snowboots.) she also insisted on wearing kaye's ski helmet. she has the cutest beanie but you would think it had knives in it with the way she reacts when we try to put it on her head. but a heavy helmet? no problem.
after ample amounts of snow angels we lured our farmer outside and slammed him with snowballs (pre-made, of course)...he then informed me that there would be payback when i least expected. i'm nervous. really, i am. one time his payback was pushing me onto a football field in the middle of a high school game. i was like...uhhh...hi everybody.
5 | POST RECAP
and, you know, in case you missed it...this week i talked about...
i didn't do a write-up on sawyer - but maybe i should. she's been a beast the last couple of days...after she teased us with sweetness last week. i'm on an emotional roller-coaster with this gal and i want to get off - ASAP.
ps. contractor update - they just started work and it's 6:39 am! guys - i'm in shock. i hope the bathroom turns out so amazingly so i can recommend an excellent contractor to the treasure valley.
pps. no
oh hey, friday!
next week! in fact...i probably won't post at all next week. yay!
okay - have a super fantastic weekend!