did everyone have a super rad week?
mine? mine was pretty fantastic. the girls have been in great moods. kaye has been an absolute dream. i haven't had to cook dinner (minus some salmon on wednesday...which was delicious). and the weather has been glorious. to top it all off...we're already to friday, which means...
1 |
grab this here snazzy summer-themed button and link back to
september farm
.
2 | link up your post at the bottom of this post.
3 |
tell all your friends + have a fantastic friday.
1 | M O V E Y O U R B O O T Y !
i have something so fun to announce! amy and i put together a little fitness challenge as we have been so inspired by our little fitbits! here's how it works...
the whole idea is to stay motivated to move more throughout the day! so, if you have a fitbit or pedometer or some other magical way to count your steps we're in bizz-nass. your goal is to hit 10,000 steps five days a week for the entire month of july. that's at least 50k steps each week....or 200k steps for the entire month. if you hit your goal of 50k steps each week you'll be qualified to win the pot of entries! (ie. if 50 people participate in this challenge and pay their $1...the winner of the challenge will receive $50.) so...
1 // fill out this FORM and send in your $1 via paypal to karlib83@gmail.com.
2 // the challenge starts on july 1st and ends the 31st. (this means you have some buffer days at the beginning, but it's crunch time that last week when you only get 6 days!)
3 // feel free to advertise this challenge to anyone // everyone! husband, sister, mother, cousin, boss, co-worker...let's get after it!
4 // Questions? Send me an e-mail.
oh! and if you would like to advertise the challenge, here's a button to use!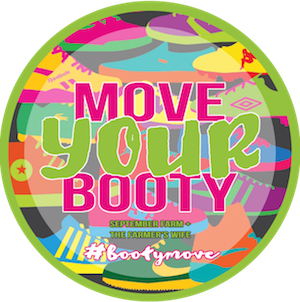 2 | 4th O F J U L Y P R I N T A B L E S
yesterday i posted about some free 4th of july printables i snazzied together. feel free to enjoy! just click HERE to get to the printable links!
also...i'm shamelessly pimping myself out. i've had so much fun lately designing little party paper goods for friends and family lately that i'd love to do more!
do you need a birth announcement? party invitation? party print goods - banners, straw flags, cake toppers, door signage, food signage, water bottle labels, etc?
i would LOVE to help you out. send me an
e-mail
and we'll discuss details and pricing!
(and by pricing i mean a suuuuper good deal depending on your customization.)
3 | H A Y C U T T I N'
my farmer is already on our second cutting of hay. (we get four, sometimes five cuttings each year.) this means he'll be running on about two to three hours of sleep a day for the next week or so. that man, he's amazing. when he's already put in 12 hours through the night, i like to take the girls out for a quick visit and ride in the tractor. they are always over the moon to see him. as soon as kaye spots a tractor she starts yelling, "daddy! daddy! i see him!" and when bitty lays eyes on him she kicks her legs, throws on an ear to ear smile, and starts drooling. yes...drooling.
thank you thank you to my farmer for all his hard work and lack of sleep. you provide the most wonderful life for your girls...all three of us.
4 | K A Y E - I S M S
my gal. my first. my kaye...she has been hysterical lately. i don't know where she gets half the stuff that comes out of her mouth these days.
(this sounds concerning, but it's actually quite funny because the whole bit happened because she got her horse stuck in her silo.)
kaye - oh no. i'm so sorry. it's all my fault. it's all my fault.
me - no honey. you don't have to be sorry. you didn't do anything wrong. you're a good girl.
kaye - it's all my fault. i'm so sorry.
(this one also sounds concerning, but again, it's funny.)
kaye - you hurt me, mommy.
me - kaye, i didn't touch you. i'm all the way over here.
kaye - you hurt me and my blueberry.
(all said in response of me dropping a blueberry on the floor five minutes prior.)
i don't know, but now that i'm reading those exchanges through, we might have a bit of a manipulator on our hands. wish us luck.
5 | W E E K E N D I N G
we have some happenings this weekend! birthday party, wedding, more hay cutting. it's a busy one, but a fun one! cheers to the weekend...
and cheers to the link up!