hey ladies, hey! happy october!
here's what's going on in my house right this moment...
+ sawyer is screaming her head off in her crib. i have no idea why. she should have been asleep two hours ago. i've been in there a trillion times. i've held her. i've cuddled her. i've read her books. i sang her songs. someone save me.
+ all i ever wanted was to grab that nutella jar again and bury myself in it so that i don't have to hear her cry any more.
+ aaaaand...i
quickly
snazzied up a new
oh hey, friday!
fall themed button for us! yay! we can't have our buttons looking all summery. eww.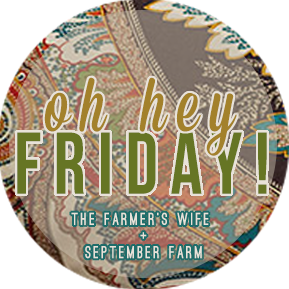 you love? i love. i love paisley. i love fall colors. i love oh hey, friday! so don't forget to head back here tomorrow to get your post all linked up!
+ and lastly...drumroll please...
i get to meet my very first blogging celebrity!
ummm...hello! this is so so rad. i mean...i live in idaho. never did i think i would ever meet another blogger outside of this state. but i am. i'm on my way to atlanta to attend a little blogger mixer thingy-thing-whosy-whatsy-this-and-that. what i'm really hoping is that it will allow me to pick the brains of some like-minded gals who run small businesses of their own! very excited.
but beyond that...i'm meeting up with jessica who is the lovely face behind the newly!
see what i mean! blogging celebrity! we have big things planned like brunching without children. it should be a super memorable experience. warm coffee. warm food. food not on my clothing in public. you know...the little things.
so yay! jealous pants, everyone. jealous pants. it's not too often i take solo trips!
see you on friday for oh hey, friday! with your brand new fall button!