we're there. we did it. another week in the books...and now i'm officially in the month of birthdays.
that's right...sawyer's birthday is on the 24th and kaye's is on the 30th.
now, i know it's hard to believe, but when planning our family i literally thought,
hey...we should have our kids in the same month. then we can just have one big birthday party!
and then we did. two girls. same month. just a few days shy of two years apart. no pressure or anything.
speaking of pressure...i was feeling the pressure to come up with a new, super fall-y button...and i did just that! so...change up your summer button with this treat!
1 |
grab this here snazzy fall-themed button and link back to
Sept. Farm
.
2 | link up your post at the bottom of this post.
3 |
tell all your friends + have a fantastic friday.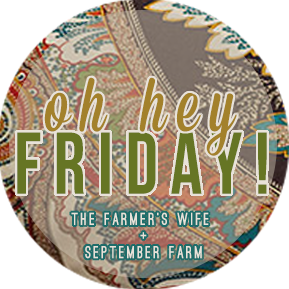 M Y F I V E - A C C O R D I N G T O M Y I P H O N E
1 | i'm leaving idaho by way of atlanta!
you guys...i'm out of here! i'm leaving my two best gals and my farmer at home and headed to atlanta! i wrote all about it yesterday here...but best of all...i get to meet jessica of the newly blog in real life!
okay...i haven't told her this, but i'm super nervous. like maybe i'll be so awkward - first date style...and then she'll realize that i'm a weirdo from idaho and gah. (be cool, karli. be cool.)
2 | when i take my gals on dates
i'm beyond thrilled to report that we are officially at an age where the three of us gals can go be lunchin' ladies. kaye sits in her seat. bitty doesn't need breast fed every 15 minutes. it's very freeing, really. so my best gals and i headed to the big city because i had a coupon for pottery barn and mama needed some fresh fall decor.




3 | fresh fall decor

i snagged some new pillow covers for the pillows on our couch. the colors they have going on this season are beyond gorgeous. i'm in love.



and kaye fell in love with every pumpkin she saw in the store...so we picked up two...and a little owl candle that smells delicious!

4 | nutella train...wreck
you guys...i cannot kick this addiction. i blame costco for selling these giant tubs in packs of two. it's ridiculous. i blame my farmer for working late nights and leaving me home with all the trash tv. and i blame my girls for going to bed so damn early. people...it's not my fault.

but let it be noted...i'm not buying anymore once we make it through these tubs.



5 | awkward selfies


am i the only one who struggles in the selfie department? i was snapping some pictures of some dresses i purchased for our family pictures coming up. (i was sending said pictures to amy and my sister to get their thoughts.) i never know what to do with my face - smile? duck face? cross my eyes?

amy's response to this dress - i hope it's not breezy. (ie. your dress is really short.) but that's how i roll, gals. short hair. short shorts. short dresses. short booties. my farmer...he digs short.
you know who isn't awkward in front of the camera? this gal. even with a cold, she's just too darn cute.
happy fri-yay!

add your link below!