oh mercy. i have problems. not real problems, but problems nonetheless.
i've become mildly obsessed with the holidays...and more specifically - designing holiday cards.
you guys...i've said it once and i'll say it again - i kind of feel like a fraud when i talk about designing paper goods or logos or design boards or business cards or or or...the list goes on.
i feel like a fraud because i
did not
go to school for any sort of design whosey-whatsy. i studied psychology in college. psychology and education. and boy do i use that every. single. day...said me never.
but as it turns out...i probably should have thought about a little graphic design schooling. i think i would have really loved it.
regardless, here i am. stumbling through it each night. and i
love it
.
lately i'm loving it that much more because i've been putting together little holiday card designs to show you all today!
but first...
1 |
grab this here snazzy fall-themed button and link back to
Sept. Farm
.
2 | link up your post at the bottom of this post.
3 |
tell all your friends + have a fantastic friday.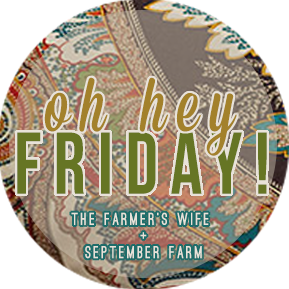 here's the thing...i wanted to show you all the goodies i've been working on because...i wanted to give you all the option of buying one of the designs!
here's how it's going to work -
+ any of the designs below can be customized by me for $25. that cost includes a backer. you'll be able to select your backer (either one of the designs below) or you can select from additional designs that will be e-mailed to you once design has been purchased.
+ if none of the below designs is your cup of tea, please e-mail me! i'd be happy to design a fully custom holiday card! a custom card is priced between $35 - $45.
(includes digital files only.)
+ i have five spots remaining for customized cards! if you haven't had family pictures taken yet, don't worry! you can reserve your spot with payment, then once your pictures are in, send them my way and i'll get to work!
1 | buffalo check
this one. this buffalo check card is my FAVORITE and i'll more than likely end up using it for our holiday card this year. i think it looks awesome with a black and white picture.
2 | fa la la la la
you don't want your card to say fa la la la la? that's okay. i can totally change it to say...anything. happy holidays? merry and bright? joy to the world? anything.
also, how do you feel about the golden-yellow color? love it? hate it? i can change that too.
3 | joy
if simple and clean is your cup of tea, then this is your cup of card? then this is your card. again, the colors can be easily adjusted to suit your likes!
4 | holiday wreath
awww...look at my two best gals! i bet your family picture would look super cute there too!
5 | ummm...link up! yes! do it, just below!
(and don't forget to

e-mail

me with your orders!
remember...i'm only taking five more! then i'm all booked up!)