this year is going to be so flipping fun i can hardly stand it. i mean...the enthusiasm kaye has shown towards our tree, alone, has made this holiday our best one yet.
but before i go on and on about how excited we are for santa's visit...let's show you all the new holiday button!
i'm downright obsessed with buffalo check this season, sooooo...


1 |
grab this here snazzy fall-themed button and link back to
Sept. Farm
.
2 | link up your post at the bottom of this post.
3 |
tell all your friends + have a fantastic friday.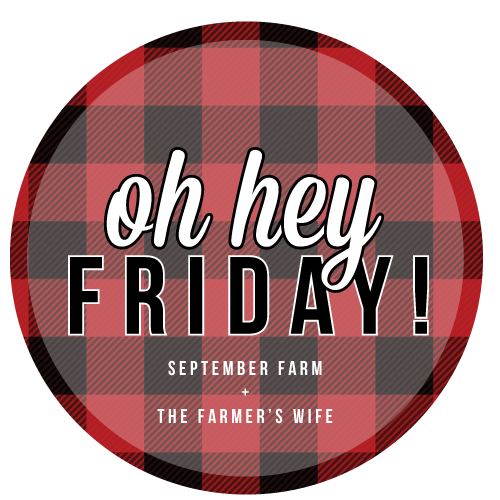 M Y F I V E - holiday wish list

1 | friends - i'm such a sucker for active wear. give me all of it - especially my most favorite brand...lulu lemon. yes yes yes. and yes, their goods are a little pricey, but riddle me this - a pair of black yoga pants i've had for five years are still not worn out...and i wear them all. the. time.
so i have a few goodies i've been eyeballing, but have yet to treat myself to.
this scarf
. i have it in a grey color...but i'd buy three more of these cozy delights.
ummm...these pants. you know...for those times when i don't want to wear my yoga pants. and this little pullover. i tried it on a few weeks ago and made note that i neeeeed it, in a size six, farmer.
2 |
let me preface by saying...i'm not a sparkle kind of gal. i'm not even a heel-wearing gal anymore, although i definitely used to be when i worked outside the home. but, when i saw these
kate spade heels
i thought -
i would most definitely wear those...one time...to a holiday party...and i would feel eff-word fabulous.
maybe someone will come up with something where you can rent shoes...or is that pretty gross?
3 | flannels. i have an intense love affair with flannels. as soon as the cold weather hits, it's the only type of shirt i want to wear. i bought this one from j.crew earlier this season and i wear it more than i should. (just look at my instagram.) i wear it with scarves, vests, with leggings, with jeans, my fancy hat, my booties, my riding boots - it looks good with EVERYTHING...in my opinion. which is exactly why i want this one. same shirt - different color scheme. i do this often. i.e. two days ago when i was in banana republic and bought this shirt in both white and dark grey.
ladies - if you're on the hunt for a great basic shirt. do yourself a favor and grab several of
these
. super flattering.
4 |
then we travel to my next favorite store - banana republic. wouldn't
these socks
make the cutest little stocking stuffer? yes, yes they would. speaking of stocking stuffers - maybe just throw in
these earrings
,
this little tweed pouch
, and
this necklace
- bonus, it's on sale.
5 |
and lastly - just something small. it'll fit right under the tree, i swear. i've been wanting a new table for years...over five to be exact. our current table is a hand down and our girls have absolutely beaten it to sh*t, as well as the rug underneath it. maybe my farmer wants to knock my socks off with a new set up?
this rug
is gorgeous. i love it in
blue
, too. and
this table
with
these chairs
on either end with
these chairs
on either side.
i saw the set up at pottery barn earlier this week and i just about impulse purchased the complete set right then and there. swooooooon. you know, just something simple and inexpensive. #yeahright #inmydreamsokay!
go get your linkup on!