it was another one of those thursdays.
sawyer was ON one...and woke up in a terribly fowl mood after only an hour nap...which was a far cry from her normal three hour nap.
can i get an
amen
for three hour naps?!
so by the time my farmer made it home at an unexpected early hour (5:30 pm - yay!!!) i was like...nobody talk to me.
i'm such a treasure.
but seriously...if i have to wipe sawyer's nose one more time...i'm going to lose my sh*t. we're going on 2+ weeks of runny nose-ville over here.
while i'm wiping sawyer's boogers for the 200th time before 7am...you go ahead and get yourself linked up and i'll try to put on my pretty face so my farmer doesn't think i'm going to run away...
1 |
grab this here snazzy spring-themed button and link back to
Sept. Farm
.
2 | link up your post at the bottom of this post.
3 |
tell all your friends + have a fantastic friday.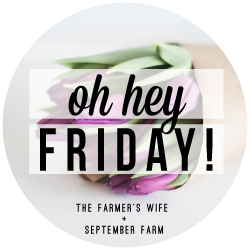 a tale of two bathrooms
we got farm-probs up in here. we're on year four of only having 1 1/4th bathrooms...if you can even call that coffin in our laundry room 1/4th of a bathroom.
some backstory - when i married my farmer we moved into a lovely, little single-wide trailer. it was no secret - i loathed the single-wide trailer.
my farmer immediately got cracking on building me our home on a hill. and i love it. we moved in a few months before kaye was born and it's wonderful. it has windows EVERYWHERE. a very open floor-plan. four good-sized bedrooms. a large daylight basement. it's great...except for the lack of bathrooms. i don't even know what we were thinking not adding in some sort of nicer bathroom upstairs for guests. i guess we thought we wouldn't be having many visitors. too little, too late now. i digress...
we do, however, have a very very unfinished bathroom downstairs. as in, it's in studs. cement floor. this is so unfortunate. poor kaye has to haul her booty all the way up the stairs in the middle of the night to go to the bathroom. i have to haul my booty up the stairs mid-workout to do the same. don't get me started on the struggle of what it was like potty training. oh...or if we're in the backyard. it makes me wish they were boys and they could just drop trow. no such luck.
however - a large part of me is glad we've waited this long. my tastes have changed so drastically in the last four years...i've gone in a totally different design direction...which brings me to my five -
five must-haves for our second bathroom
basically i have everything picked out. i know i want some simple lighting. i know i want to keep on a very neutral color pallet and just jazz it up with some towels and accessories.
1 | simple, classic, gorgeous tile
2 | a killer sink // vanity
3 | simple lighting
4 | colorful towels
5 | simple details that won't clutter
okay! happy friday...and here's to two bathrooms!
linkup!