happy friday AND a very happy forth of july weekend!
you may have noticed that i didn't blog a single time this week. this has never happened in nearly five years.
then...when i realized it was friday yesterday i thought, "i'm just going to keep this train going. a summer vacation from blogging."
giving myself that permission felt so good.
which is ridiculous.
it's not like i'm a nurse and i just stopped showing up for patients! who do i think i am?
it's comical really.
all this to say - i was going to just open my laptop and include the linky, but now i kinda wanna linkup. #badhabit.
and you should continue your bad habit too...
1 |
grab this here snazzy summer-themed button and link back to
Sept. Farm
.
2 | link up your post at the bottom of this post.
3 |
tell all your friends + have a fantastic friday.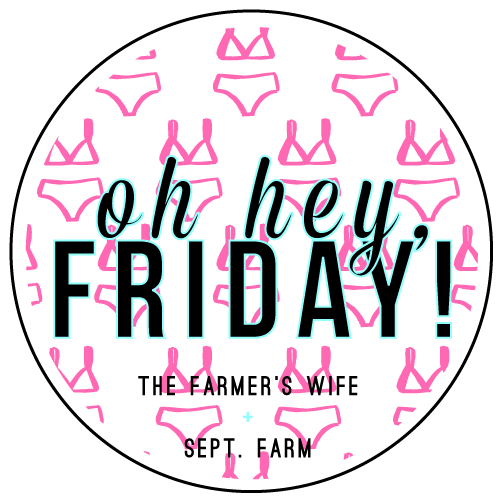 1 | happy birthday!
on monday it's my very best friend's birthday. my other better other half. my sister. she's a 4th of july baby which makes her ridiculously special.
growing up, we couldn't have been more different. she was tall, skinny with auburn / curly hair. i was short, chubby, and blonde. huh?
i would desperately steal her clothes, trying to fit into them. she would trick me into agreeing to do this or that. we broke a toilet together. we shared a car. she let me squat at her apartment for several months in boston. i'd let her squat at our farm forever.
i was always the sweet one. but somehow our rolls switched and she became the sweet one. i became the feisty one. our heights evened out and we became the very best of friends...as different as our personalities still are.
we live in different states now, but sometimes when we visit each other we'll discover we've purchased the same clothing.
we can literally finish each other's sentences.
i'm just so darn lucky to call her mine!
2.
you know you're a blogger when...
so..........i was in boise yesterday running around like a crazy person. while at home depot getting a bunch of paint i thought...hey! a marble tile. i should look into that. you know...because if you're a blogger and you don't have carrera marble countertops with pristine lighting you better figure something out or just quit blogging. kidding. anyway...the only marble tile they had available was a tiny little rectangle. i think it's 8x12". i thought...for $5, i'll try it. i put it on the cement floor of home depot, threw my sunglasses on top of it. snapped one photo. BOOM. i've mastered the flat lay.
mic drop. i'm out.
3 | taco tuesday
on wednesday (because we're always a day late on the farm) we had some friends over for tacos and margaritas. and while i don't have any pictures...i do have the recipes. they are must-tries. so so yummy.
these
shredded beef tacos
are so easy. i chopped in the morning. made the spice rub. and into the crockpot for eight ours. voila. dinner is served.
i also whipped up some
blackberry margaritas
. the recipe says they are "skinny." ummm...maybe since there is fruit? otherwise, no. these are not skinny margaritas...but they are delicious!
4 | can you sleep train a nearly two year old?
ummm...where did my sweet sweet gal go? oh...i know. she's nearly two. i remember this age all too well with kaye. same feisty attitude, but at least kaye would stop, drop, and sleep at 7 pm. sawyer? she laughs in the face of a 7 pm bedtime. so we've pushed it back to 7:30 pm. which means she's not actually in bed until closer to 8 pm. (which means i only get two hours of free until my bedtime. #momprobs) and even when she is in bed at 7:30 pm - the last few nights she's been screaaaaaaaaaaaming. MOM! AHHHHHHH! MOM! it goes on and on. i totally blame myself. she was always so sweet when she was little we didn't need to sleep train her. she would just fall asleep. or if she woke up we could cuddle her and she would go back down. we literally went in her room at every sound, knowing she just needed a binkie.
fail.
now she thinks we should still be running into her room at the slightest peep. and as we get ready to transition her to a big girl bed....guh. this is not going to go well.
so...can you sleep train a two year old?
5 | social media love
hey! new around these parts? or just never thought to explore my other social media channels? have a look!
awesome! after some shameless // blunt self promotion, it's time to link up!