woo! friday. oh wait...it feels like tuesday. i mean - we just got back from disneyland.
speaking of disneyland - did you see my little
thanksgiving recap
? we seriously had the very best time. even our farmer had a smile on his face most of the time. i was so scared he was going to hate disneyland, but seeing his two gals the very very happiest - it was hard to be mad about the mobs of people...everywhere.
we're farm people. we're certainly not used being shoulder to shoulder. or waiting in lines.
but you know what you don't have to wait in line for?
oh hey, friday
. so do yo thang...
1 |
grab this here snazzy fall-themed button and link back to
Sept. Farm
.
2 | link up your post at the bottom of this post.
3 |
tell all your friends + have a fantastic friday.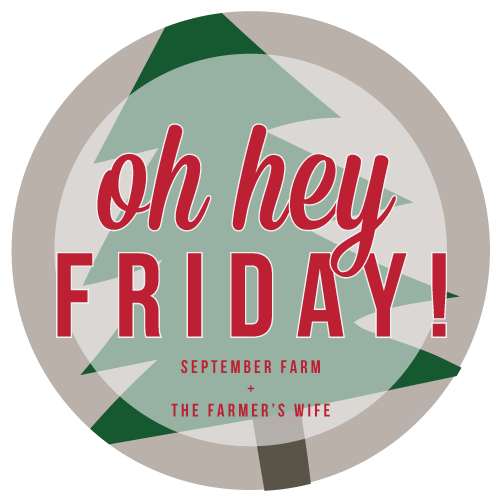 1 | WINK & INK
before we left on our little trip i received an e-mail for a quick invitation from a fellow idaho mom. her gal had requested a puppy party...and while i didn't have a puppy invitation in my shop - i was soooo happy to fulfill the request! i'm in love with how it turned out, so i went ahead and created a few more goodies for her party, including a little puppy adoption sign as well as an adoption certificate. i know exactly what kind of birthday party my gals will be getting next year. maybe i'll get crazy and we'll get a real puppy. ha.
so don't forget! if you have a little someone in need of some party goodies - Wink & Ink would just be so happy to help! oh! and you can follow on instagram too!
2 | HOUSE UPDATE
okay - the day after we got back from disneyland was the day i officially decided i was completely over the yellow stripes i had painted on our wall nearly five years ago. must get rid of yellow stripes. i think it's taken me so long because that wall is about 15+ feet high. damn you vaulted ceilings. anyway - is the color too blue? i'm having anxiety over this. would it bother me that much if it was too blue? i think the problem is is i wasn't sure what color i wanted in the first place. gah. problems.
3 | ANOTHER HOUSE UPDATE
pardon the lunch mess on the table. see this chunk of wood?! i've had my eyeballs on a new table since before we moved into the house. we just knew we shouldn't get a new one until we knew the girls weren't going to completely destroy it. well, i got sick of waiting for that day and bit the bullet. the guys who delivered the table and set it up said - "you got yourself a heavy one." i beamed with pride.
i swear our other one was built for children. as in...it was about five inches shorter and about seven inches less in length and width. it was so so tiny. my farmer insisted i was crazy and that it was a standard table...nope. now we have a standard sized table. anyway...now i need help styling it for the holidays...since we're hosting and all!
4 | ALL THINGS GOLD
speaking of shopping...target has the best gold. i want it all. i went ahead and snagged myself that mini reindeer and the moose antler tray. but now i'm thinking i need those jingle bells and maybe a few other goodies.
5 | A FEW DISNEY SNAPS
as a first time family visit to disneyland i feel like i learned a thing or two...or ten. so even though pinterest is completely saturated with tips and lists and strategies - i feel like there needs to be a practical guide...so i think that'll be in the works here shortly. in the meantime...a few more of my favorite moments...
all of sawyer's two year old dreams were realized when she got to ride on dumbo...
just a dad and his princesses...
and of course the moment sawyer realized she wanted rapunzel as a mommy...
okay! link up time and have the happiest weekend!