ummm...my brain is shot.
i spent the better part of two hours trying to figure out who hosts my domain // how to transfer my domain // what the eff a domain is (kidding...i know what a domain is)...but really. hosting your website is no joke and i have a new appreciation for wonderfully smart, wonderfully nerdy people who can walk themselves around all of that bizz.
i used to pride myself in being a computer nerd...but it's clear. i'm waaaaaaay down here...and they are waaaaaaay way up there. we don't even speak the same love language.
but i know someone who does speak my love language! it's you...and it's blogging. let's get linked up.
1 |
grab this here snazzy fall-themed button and link back to
Sept. Farm
.
2 | link up your post at the bottom of this post.
3 |
tell all your friends + have a fantastic friday.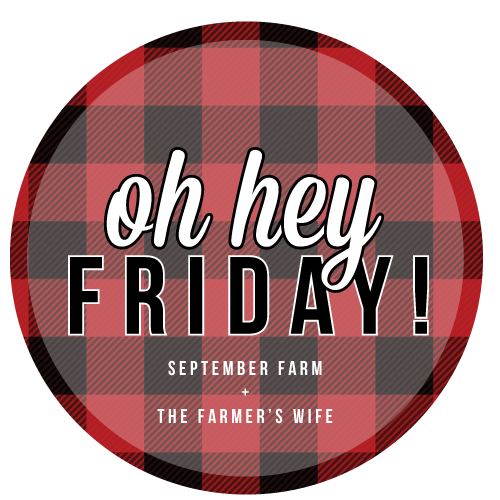 M Y F I V E
1 | pinterest
so...i try to make my farmer a homemade card for all our occasions - birthday // anniversary // valentines day. i write ooey-gooey, mushy, lovey-dovey things in them and card and then i give him lots of gross kisses, he acts very appreciative...and that's our tradition. lately...i've been the worst. but in a few days...i'll be the best. i've gotten some great valentine ideas from pinterest lately, and i wanted to share a few...
is it at all obvious that my farmer is going to get lucky on v-day? only on holidays, people. only on holidays.
2 | workouts + nutrition
*pats self on back. you guys - i kind of killed it this week. i killed it in the workout department. i have a new loathing for anything kettlebell related but have a new appreciation for arm workouts. my arms, shoulders, and back has been where i've noticed the biggest changes this 8 week challenge...which is wonderful because i so totally suffer from flappy arms when i stop working out. i've also noticed some booty-lift...must be all those freaking kettlebell squats and jacks and lunges and burpies.
3 | sneak peak
i suck at surprises. i just can't wait to share all the beauties i put together for my very own labor of love...karli bell branding & design.
i'm still a month out from launching, but when it does happen...you can expect me to shout it from the rooftops. my website will have a blog attached...so now i'm wondering if i should just merge the two or keep one professional and one where i can talk about how i almost jumped across the post office counter and strangled the smug clerk over children's valentines. but let's get back to my happy place...here's a sneak peak!

4 | eeeeee! i'm so excited! in addition to finally getting my own pages designed i've been working on a few different projects this past week and it's been a wonderful learning experience. i'm almost finished with the branding of jessica's business, pearl & monroe, and i can't help but share a few things!
to give you some background - jessica blogs over at the newly, and had the wonderful idea of starting up an online clothing boutique. her style is so classy and clean and flawless...it just made sense. she e-mailed me so so so long ago about designing a logo for her and it's been a work in progress ever since. i'm so excited for her final branding rollout so that all her social media, and print materials are consistent and beautiful and recognizable! i designed stickers, correspondence cards, business cards, a Facebook cover page, and her paypal invoices. i hope jessica is as in love with everything as i am!
pearl & monroe final branding board
5 | a new way to advertise
it's that time again. group giveaway. do you have #blogginggoals? yeah...me too. this month i'm considering focusing in on growing one specific social media outlet. so why not try one of those instagram loop dealy-bobs?! the catch is...it's an investment. i'm just going to put it out there. i'm looking for NINE like-minded women who are ready to put down some mula. as in each of us throws in $50 for a $500 cash giveaway. the beauty of it is - it's small enough to be personal! but a big enough prize to pack a punch. know what i'm saying?! i'm lowering my group giveaway ad space to just $5 this month to cover the ad on my sidebar as well as the time it will take to put the loop together. other than that...i think we'll see some serious traffic! so...who wants in? to loop or not to loop? that is the question. buy your group giveaway ad space for $5 HERE!
TOTAL INVESTMENT - $55 (for the gal who wants to see her numbers jump!)